Embedding a MyOrderDesk web-to-print website into your website - MKB 0090
In this knowledge base article, we'll go over how to embed a MyOrderDesk website into a WordPress website (or any other website).
What does it mean to "embed a MyOrderDesk website"?
The area below the "order" text is a MyOrderDesk website that has been customized and simplified to make it look as if it belongs to The Print Shop Wordpress website. To the untrained eye, it's virtually impossible to tell that the MyOrderDesk website is embedded.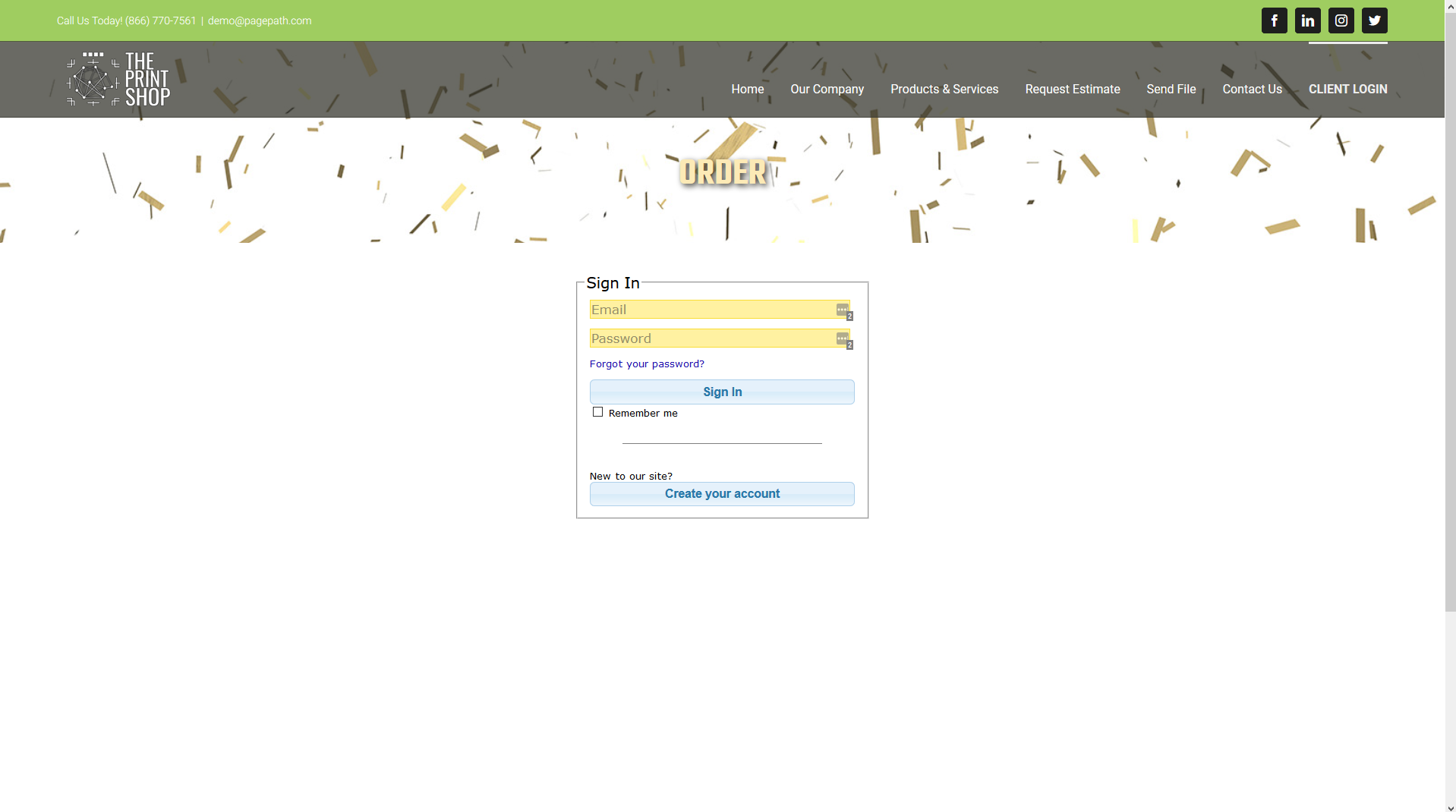 How to Embed - WordPress
There are two methods that can be used for embedding MyOrderDesk, one for WordPress, and the other for any other situation.
To embed your MyOrderDesk website into your WordPress website, we recommend that you use the new "MyOrderDesk" plugin in the WordPress plugin directory. You can find it here:
https://wordpress.org/plugins/myorderdesk/
Installation and setup is simple! Navigate to your WordPress administration page, then navigate to Plugins > Add New. From there, search for "MyOrderDesk", then install and activate the plugin. From there, click the "MyOrderDesk" tab in the administration menu, and follow the on-screen instructions.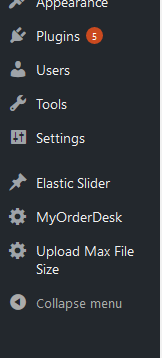 If this setup does not work for you, you can also use the following instructions by inserting it into the wordpress page directly.
How to Embed - Code
1. Create a new page on your website and name it as such: My Account
2. Copy and paste the code below into the page you would like the webpage to display.
NOTE: Be sure to replace the ##### in the code with your MyOrderDesk account number which can be found in the upper right-hand corner of your MyOrderDesk website's administration menu after signing in. This will be common for all code pieces and you must be sure to replace the pound symbols.
<div>
<iframe id="mainFrame" style="border: 0px solid gray; width: 100%; height: 1200px; background-color: transparent;" src="https://www.myorderdesk.com/settings.asp?Provider_ID=######" name="mainFrame" width="300" height="150" scrolling="no"></iframe>
</div>
<script src="//www.myorderdesk.com/scripts/davidjbradshaw-iframe-resizer-a22ff52/js/iframeResizer.min.js" type="text/javascript"></script>
<script type="text/javascript">
iFrameResize({scrolling:false, checkOrigin: false,}, '#mainFrame');
</script>
<script src="//www.myorderdesk.com/Scripts/MODSkinService/MODSkinService.js"></script>
<script>//
MODSkinService('mainFrame'); 
</script> 
3. You are now ready to save the changes and view the page. If everything was done correctly above, then you should see your MyOrderDesk sign in page.
IMPORTANT NOTE: Email Notifications
You must set up a page on your site that can be used when you or your users click on email links.
In your website, create a new page and name it: w2p
The direct URL to this webpage should resemble the following: http://www.example.com/w2p
Paste the code below onto that page and save the page. When the MyOrderDesk techs take your site live they will set up the configuration within your MyOrderDesk website.
<!-- DO NOT DELETE this page. It is used for all the notification links that come from MyOrderDesk -->
<div>
<iframe id="mainFrame" name="mainFrame" src="https://www.myorderdesk.com/settings.asp?Provider_ID=#####" scrolling="no" allowtransparency="true" style="border:0px solid gray; background-color:transparent; width:100%; height:1600px" onload="window.parent.parent.scrollTo(0,0)"></iframe>
</div> <script src="//www.myorderdesk.com/scripts/davidjbradshaw-iframe-resizer-a22ff52/js/iframeResizer.min.js" type="text/javascript">
</script> <script type="text/javascript">
iFrameResize({scrolling:false, checkOrigin: false,}, '#mainFrame'); // NOTE - might be '#mainFrame'
</script> <script src='//www.myorderdesk.com/Scripts/MODSkinService/MODSkinService.js'>
</script> <script> MODSkinService('mainFrame');
</script>
Embedding other MyOrderDesk pages into your website
In the example above we demonstrated how to embed the Sign In page into your website.
In the image below, you'll see that we've created links in our Wordpress menu to other MyOrderDesk pages.

Below is a complete list of MyOrderDesk pages that can be easily embedded into web pages:
My Account
Sign Out
Job History
Main Ordering Page
A specific Job Form
A specific Catalog
The shopping cart page
Below are the associated code pieces for the list above.
For the My Account Page
<div>
<iframe id="mainFrame" name="mainFrame" src="https://www.myorderdesk.com/settings.asp?Provider_ID=#####" scrolling="no" allowtransparency="true" style="border:0px solid gray; background-color:transparent; width:100%; height:1600px" onload="window.parent.parent.scrollTo(0,0)"></iframe>
</div>
<script src="//www.myorderdesk.com/scripts/davidjbradshaw-iframe-resizer-a22ff52/js/iframeResizer.min.js" type="text/javascript">
</script>
<script type="text/javascript">
iFrameResize({scrolling:false, checkOrigin: false,}, '#mainFrame');
</script>
<script src='//www.myorderdesk.com/Scripts/MODSkinService/MODSkinService.js'>
</script>
<script> MODSkinService('mainFrame');
</script>
For the Sign out Page
<div>
<iframe id="mainFrame" name="mainFrame" src="https://www.myorderdesk.com/logout.asp?Provider_ID=######" scrolling="no" allowtransparency="true" style="border:0px solid gray; background-color:transparent; width:100%; height:1600px" onload="window.parent.parent.scrollTo(0,0)"></iframe>
</div>
<script src="//www.myorderdesk.com/scripts/davidjbradshaw-iframe-resizer-a22ff52/js/iframeResizer.min.js" type="text/javascript"></script>
<script type="text/javascript">
iFrameResize({scrolling:false, checkOrigin: false,}, '#mainFrame');
</script>
<script src="//www.myorderdesk.com/Scripts/MODSkinService/MODSkinService.js">
</script>
<script>
MODSkinService('mainFrame'); 
</script>
For the Main Order Page
<div>
<iframe id="mainFrame" name="mainFrame" src="https://www.myorderdesk.com/jobsubmit.asp?Provider_ID=######&force=1" scrolling="no" allowtransparency="true" style="border:0px solid gray; background-color:transparent; width:100%; height:1600px" onload="window.parent.parent.scrollTo(0,0)" ></iframe>
</div>
<script src="//www.myorderdesk.com/scripts/davidjbradshaw-iframe-resizer-a22ff52/js/iframeResizer.min.js" type="text/javascript">
</script>
<script type="text/javascript">
iFrameResize({scrolling:false, checkOrigin: false,}, '#mainFrame');
</script>
<script src='//www.myorderdesk.com/Scripts/MODSkinService/MODSkinService.js'>
</script>
<script> MODSkinService('mainFrame');
</script>
To reference a specific Job Form (Like "Send a File" or "Request an Estimate" or "ABC Hospital Business Card)
Be sure to replace the ******* symbols below with the Job Form ID
<div>
<iframe id="mainFrame" name="mainFrame" src="https://www.myorderdesk.com/jobsubmit.asp?Provider_ID=#####&OrderFormID=*******" scrolling="no" allowtransparency="true" style="border:0px solid gray; background-color:transparent; width:100%; height:1600px" onload="window.parent.parent.scrollTo(0,0)" ></iframe>
</div>
<script src="//www.myorderdesk.com/scripts/davidjbradshaw-iframe-resizer-a22ff52/js/iframeResizer.min.js" type="text/javascript">
</script>
<script type="text/javascript">
iFrameResize({scrolling:false, checkOrigin: false,}, '#mainFrame');
</script>
<script src='//www.myorderdesk.com/Scripts/MODSkinService/MODSkinService.js'>
</script>
<script> MODSkinService('mainFrame');
</script>
To reference a specific Catalog:
Be sure to replace the #### and ****** symbols below with the Catalog ID
<div>
<iframe id="mainFrame" name="mainFrame" src="https://www.MyOrderDesk.com/Catalog/?Provider_ID=######&CatalogID=****" scrolling="no" allowtransparency="true" style="border:0px solid gray; background-color:transparent; width:100%; height:1600px" onload="window.parent.parent.scrollTo(0,0)" ></iframe>
</div>
<script src="//www.myorderdesk.com/scripts/davidjbradshaw-iframe-resizer-a22ff52/js/iframeResizer.min.js" type="text/javascript">
</script>
<script type="text/javascript">
iFrameResize({scrolling:false, checkOrigin: false,}, '#mainFrame');
</script>
<script src='//www.myorderdesk.com/Scripts/MODSkinService/MODSkinService.js'>
</script>
<script> MODSkinService('mainFrame');
</script>
For the Job History Page
<div>
<iframe id="mainFrame" name="mainFrame" src="https://www.myorderdesk.com/Jobs.asp?provider_id=######" scrolling="no" allowtransparency="true" style="border:0px solid gray; background-color:transparent; width:100%; height:1600px" onload="window.parent.parent.scrollTo(0,0)" ></iframe>
</div>
<script src="//www.myorderdesk.com/scripts/davidjbradshaw-iframe-resizer-a22ff52/js/iframeResizer.min.js" type="text/javascript">
</script>
<script type="text/javascript">
iFrameResize({scrolling:false, checkOrigin: false,}, '#mainFrame');
</script>
<script src='//www.myorderdesk.com/Scripts/MODSkinService/MODSkinService.js'>
</script>
<script> MODSkinService('mainFrame');
</script>

For the Shopping Cart Page
<div>
<iframe id="mainFrame" name="mainFrame" src="https://www.myorderdesk.com/carts.asp?Provider_ID=#####" scrolling="no" allowtransparency="true" style="border:0px solid gray; background-color:transparent; width:100%; height:1600px" onload="window.parent.parent.scrollTo(0,0)" ></iframe>
</div>
<script src="//www.myorderdesk.com/scripts/davidjbradshaw-iframe-resizer-a22ff52/js/iframeResizer.min.js" type="text/javascript">
</script>
<script type="text/javascript">
iFrameResize({scrolling:false, checkOrigin: false,}, '#mainFrame');
</script>
<script src='//www.myorderdesk.com/Scripts/MODSkinService/MODSkinService.js'>
</script>
<script> MODSkinService('mainFrame');
</script>
Additional Steps when embedding:
1. Disable your logo (Admin Menu > Site Settings > Logo > uncheck "Display my logo")
2. Disable your footer (Admin Menu > Elements > uncheck "Site Footer")
2. Turn off your MyOrderDesk navigation if you will be using your website's navigation to get to different pages. (Admin Menu > Site Settings > Elements > set menu to "Classic Tab Menu" > uncheck boxes: See image below)

3. Insert this code in the <head> area under Site Settings > SEO/CODE > Code
<style type="text/css">
.FooterPolicy { display:none; }
.FooterCopyright { display:none; }
</style>