Guest Checkout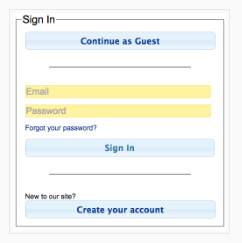 Previously, all users who placed an order using the shopping cart were required to create an account with an email address and password. Enabling Guest Checkout on your website allows users to bypass the account creation process and "Continue as Guest".
To enable this feature:
Administration Menu > Shopping Cart > Checkout Options > Allow Guest Checkout
Set Required Information:
The only information required by guests, will be what you have set to "required" inside...
Administration Menu > Users & Groups > Set Required Fields > Public Order Forms column.
Appearance on the History page:
The history page will flag all guest jobs as Guest Checkout

Post-Checkout:
If the user who previously submitted a guest order attempts to build an account at a later date, MyOrderDesk will recognize the email address and notify them that they already have an account. The user can utilize the "Forgot your Password" link to set their password. Once that user creates an account, they can no longer utilize guest checkout.