About Accounts Receivable (A/R) Follow
To access the Accounts Receivable section, click the A/R tab.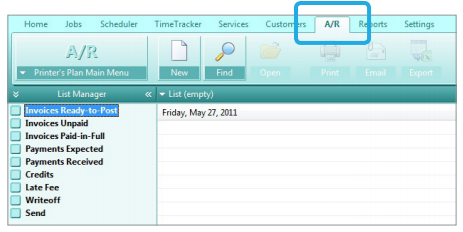 Accounts Receivable Section
Note: Printer's Plan reads the accounts receivable data from History Jobs. Consequently, changes made directly to History Jobs may affect accounts receivable information. Therefore, do not edit History Jobs unless it is absolutely necessary.
If a History Job must be edited, please refer to "Correcting Invoices", which explains how to cancel a History Job and create a revised one.