Setting up Print Reach Pay Payment Method
In this article we will demonstrate how to set up a Print Reach Pay Payment Method. Print Reach Pay allows users to pay with credit and debit cards during the checkout process.
This article assumes you have already worked with our Servicing team to get set up with this payment method, and that you have a MerchantID available to you.
Once your account is set up with Print Reach Pay, you will want to add it to your storefront as an option for your customers.
Start Here:
Use the Administration Menu to navigate to Shopping Cart > Payment Methods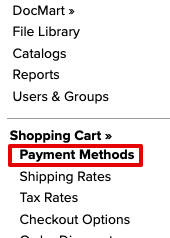 Step 1. Select Your Payment Method
Using the Add Payment Method drop down menu, select "Print Reach Pay".

Step 2. Complete the Payment Settings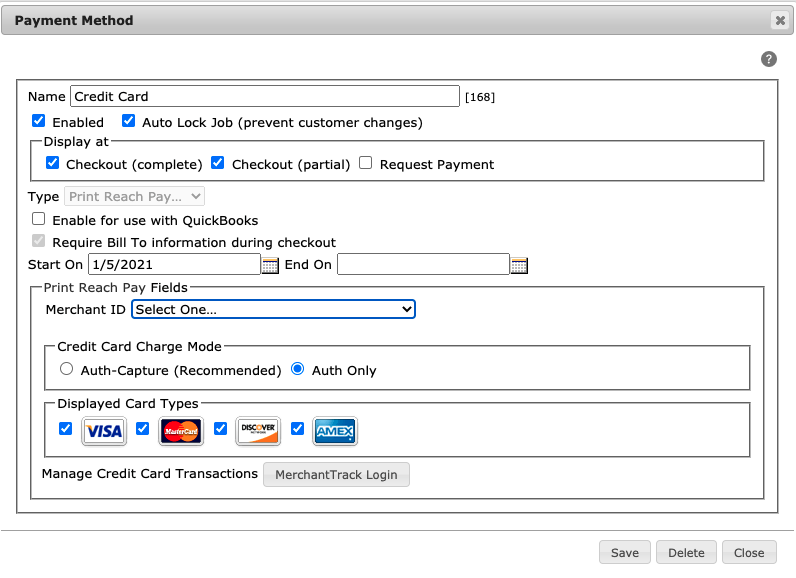 Name - We recommend naming the payment method "Credit or "Credit Card." This is what will display to your customer in the storefront.
Enabled - When you are ready for the payment method to be available, select the Enabled button. You will still need to make the payment method available to one or more of your Groups before it will be an option in the checkout process.
Auto Lock Job - Select this option to prevent users from making changes to the order after the payment is submitted. (Recommended).
Display At - You can choose when this Payment Method displays during checkout. See below for your options:
Checkout (complete) - The Payment method will only be displayed if all items have pricing. The option will not display if any of the items have N/A for price.

Checkout (partial) - Payment method is displayed to the user at checkout when at least one item has a price.

Request Payment - This option allows you to request payment from the customer after the order is placed. You may want to set up a payment option of "Invoice me later" or "Will Pay Later," etc. Then, inside the order detail (Order History > Detail) you can request the customer make a payment. The customer will be sent an email with a link that will take them to their Order History where they can Make a Payment using this credit card method. Where the credit card option was not initially available to them in the store, it could be now.



See below where the customer is able to place the order without using the credit card: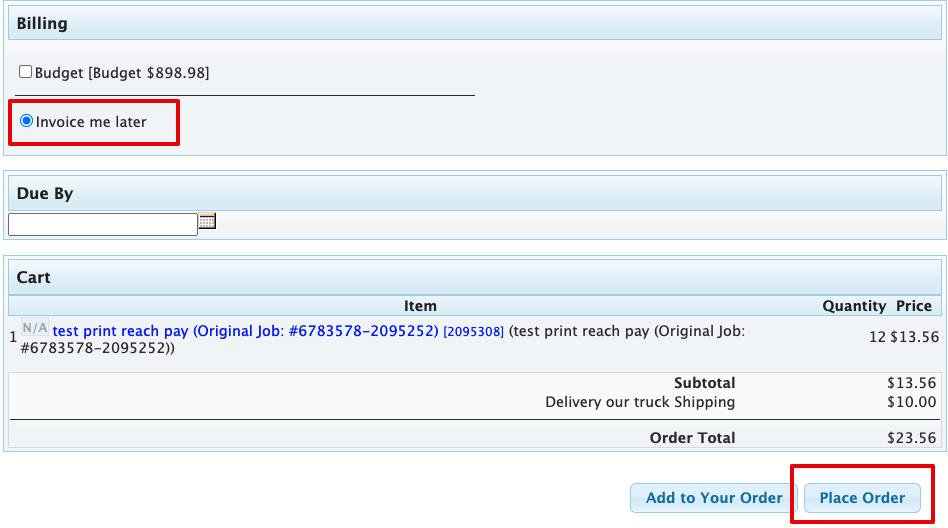 Here you can see that you are able to request your customer to make a payment in the Order History > Detail.
See below an example of what your customer may see in the email sent to them asking that they make a payment. The text "Please pay me now, the job is done" was customizable. The customer uses the link to make the payment.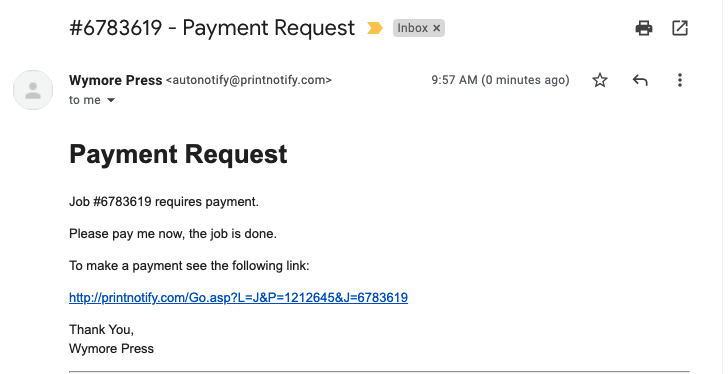 When the customer goes to make the payment, they are taken through the same ordering pages with the credit card now being available to them. They select the Make Payment button and will be prompted for their credit card details as usual.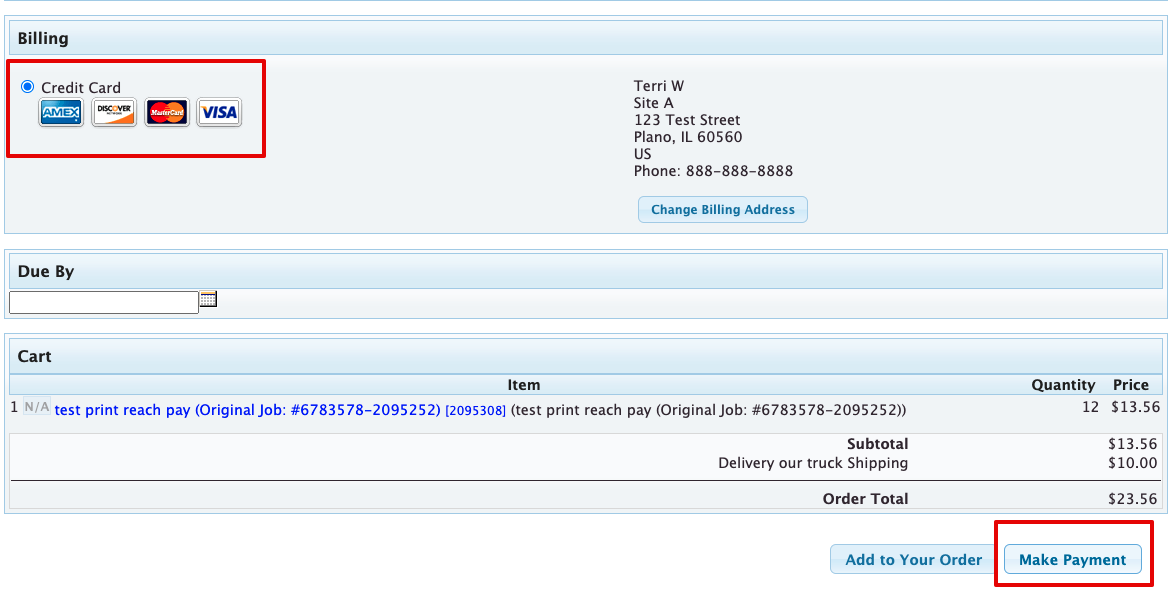 Print Reach Pay Fields
Merchant - When you sign up with Print Reach Pay, you will be given a Merchant ID. Our Servicing team would have set this up on your account so that it will be displayed in the dropdown window. In most cases you will only have one MerchantID for your business, and you can use that same Merchant for any combination of Print Reach products. If you have more than one MerchantID, then you will see them in the dropdown and can select which one you would like to use for the storefront you are setting up.
Credit Card Charge Modes
Auth-Capture (Recommended) - An authorization of the credit card with immediate capture of the payment.
Auth Only - An authorization of the credit card for the amount agreed to pay. With this method, the buyer's funds are on hold until you go into the Order History > Detail page and Capture the payment. You might want to do this if the customer does not want to be billed until after the job has been completed, but this does add an extra step to your process. This is why we recommend using Authorize and Capture at the same time. See below.

Displayed Card Types
Print Reach Pay offers Visa, Master Card, Discover and American Express. By selecting which card type you accept, these icons will display to your customer in the store alongside the Payment Method name you defined.
Manage Credit Card Transactions
Select the link to MerchantTrack to log into your MerchantTrack website. In MerchantTrack you will be able to view and manage your transactions for all the products at Print Reach that you have integrated with. You can also request funds using the Virtual Terminal inside of MerchantTrack as well as run reports.
*TIP: You can bookmark the link to the login so that MerchantTrack is easily accessible. It will require that you enter in your MyOrderDesk username and password if you are not already logged in.
Step 3. Enable the Payment Method for your Group(s)
Navigate to the Users & Groups page to enable the Payment Method for your group(s).
Select a group that will be using this Payment Method.
Expand Checkout Options.
Select the Payment Method(s) and use the drop down menu to turn them on.
The Print Reach Pay payment method should now be complete.
If you have questions or would like extra support on this topic please call 866.770.7561 opt 2. or open a support ticket.