Large Format Setup Guide Follow
This guide will cover both large format printers and materials.
Large Format Medium
In Printer's Plan, there are several example services that can be used to enter large-format materials. Under the Large Format department, there are 2 default material categories: Medium and Substrate. These categories contain roll materials and rigid materials respectively.
Below are the areas that will require updating:
General Properties
Quantity
Cost & Price
Run Table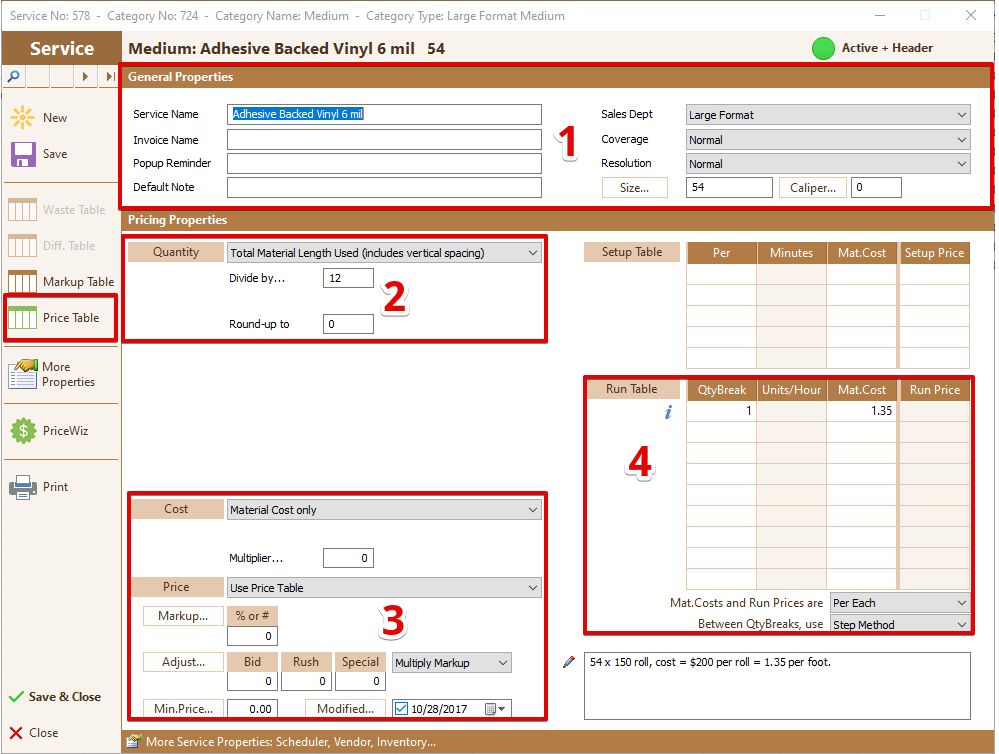 General Properties

Service Name: Enter the name of the material. This will be used to identify this service.

Invoice Name: An alternative name can be entered for this service to display on invoices and other documents.
Popup Reminder: Text entered here will display in an alert when this service is used on an order or quote.
Default Note: This note will display on work orders when this service is used.
Sales Dept: The sales department is where all of the cost and price accounting for this service will report. These can be customized in the Settings menu.
Coverage: This allows for a default coverage level for this material to be set. Adjusting coverage and resolution on the material will adjust how the printer calculates its costs and run time.
Resolution: Allows for pre-determined resolution quality.
Size: Enter the size of the material.

Roll Material: Enter the width of your roll in inches only. The overall length of the roll doesn't need to be entered.
Rigid Substrate: Enter the exact dimensions in inches of your sheet. Ex: 24 x 36.

Caliper: Enter the thickness of the material for difficulty calculations.

Quantity

Roll-Fed Quantity: This field should be set to Total Material Length Used (Includes Vertical Spacing) to capture the total length of material from the roll that is used.

Divide By...: This field should be set to a value of 12. By default, the calculations are based on inches and this converts the calculations to linear feet.

Rigid Substrate Quantity: The quantity should be set to Total Document Area to account for the entire material area.

Divide By...: This should be set to 144 to convert the inches to square feet. When using substrate materials the quantity output is typically in sq. ft. Document size of 24 x 36 is a total of 864 square inches. Dividing by 144 gives us an output of 6 sq. ft.

Cost & Price

Cost: Materials only require Material Cost.
Price: There are different options for different materials. There are varying setup options for large format materials as well. For large rigid sheets, you may want to calculate costs per square foot used.


Roll Material: Roll materials may use a price table based on the total document size.
Rigid Substrate: There are several setups that can give different outputs.

Cost + Markup: This will allow you to capture the total sheet's cost and charge a percentage markup for its use.
Use Price Column Of Setup And Run Table: Unlocks the price column of the Run Table. Values entered will be selected based on coverage and difficulty.

Markup: This field is only used in a Cost + Markup setup. This option is standard and works the same as other markup services but there are no options for different usages.

Run Table

QtyBreak: Enter 1 here by default. What this represents will be determined by the Quantity and the Mat. Costs And Run Prices Are fields.
Mat. Cost: This is where you enter your costs for this material. If this is a Roll material this will be your cost for your linear foot. If this is a substrate this cost will be either for a square foot or a full sheet depending on your Mat. Costs And Run Prices option.
Mat. Costs And Run Prices Are: This field works in conjunction with the Run Table to establish breaks, costs and prices as Per Each, Per M (1000) or Total.
Large Format Printers
The large format printer setups can vary based on your current pricing model. There are several pricing options available using the large format price table options if the simple setup options for Cost + Markup or Use Price Column Of Setup And Run Table don't fit your needs.
The large-format service window will appear differently than what you expect. The General properties are simplistic and straight forward so we will skip that section.
Quantity
Cost & Price
Setup & Run Table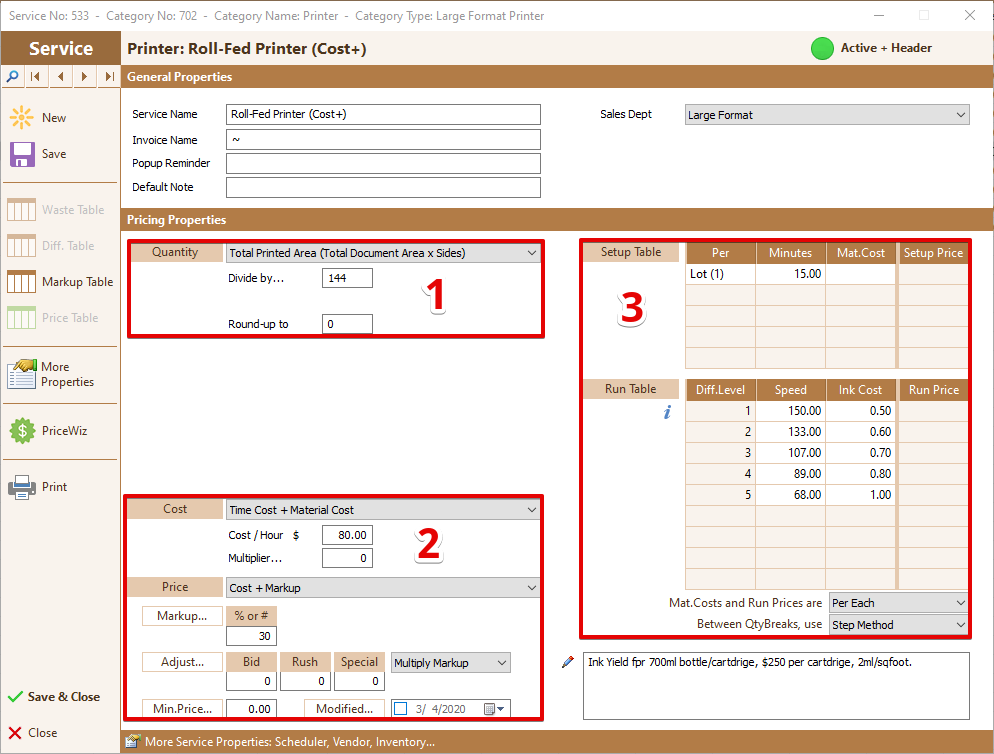 Quantity

Quantity: This is typically set to Total Printed Area (Total Document Area x Sides). We have a Large Format Help document that explains in detail all of the large format quantity definitions. This document is referenced below.

Divide By...: Enter 144 here to track your quantity output as square feet instead of the default which is inches.

Cost & Price

Cost: Large format printers are typically set to Time Cost + Material Cost but this is based on preference. We recommend matching how you already calculate your costs and pricing.

Cost/Hour: This is the Burden Rate or how much this machine costs to run per hour.

Price: Select how you would like to calculate your price for the printer. There are several different setups depending on how you currently price the printer. The pricing options are the standard Cost + Markup, Price Table, and Use Price Column Of Setup And Run Table and each has its own merits.

Using a Price Table has more options available for pricing aside from the default options.

Markup: This field is only used if Cost + Markup is selected. Enter a price table value of 1 - 19 or a percentage value of 20 and up.

Setup & Run Table

Setup Table: Typically large format printers require a setup time to make sure the run will be successful. If you want to add a standard amount of time to the overall run time, select Lot in the Per field, and in the Minutes field enter the time. This will be at a set amount of setup time.
Run Table: The run table works differently in large format printers. When creating quotes or orders, selecting the coverage and resolution will adjust values for Ink cost and Speed respectively on the table used for calculations.

Diff. Level: This field establishes the difficulty level being referenced by the rows and cannot be adjusted. The difficulty levels for Speed and Ink Costs are established when the order is being created.
Speed: This value will be adjusted based on the Resolution level selected on the order.
Ink Cost: This is the Ink cost per square foot based on the Quantities' Divide by value and the Mat. Costs And Run Prices Are selection.
Run Price: Only used if the Price field is set to Use Price Column Of Setup And Run Table and allows a specific price to be entered per Difficulty level. If Coverage and Resolution are pulling from different difficulty values then the higher value will determine the price.

Mat. Costs And Run Prices Are: If your Quantity is based on Total Printed Area (Total Document Area x Sides) and the Divide By... field is 144 (square feet) then this should be set to Per Each to calculate costs and prices based on a single square foot.
References