MyOrderDesk - ShipStation Integration Setup
About ShipStation
ShipStation helps merchants quickly generate shipping labels for all of their online orders. With ShipStation, you can connect all of your carriers and order sources in one place, and make the entire order management and shipping experience simple.
About the Integration with MyOrderDesk
When an order is placed in a MOD website, all the necessary information needed to ship the job will be sent to ShipStation. After the shipment is complete, ShipStation will send information back to MOD both triggering the order to be marked Shipped, and an email notification with the tracking number be sent to the person who placed the order.
To Begin
You will need to create an account with ShipStation. You can do this at shipstation.com.
You will also need to add the ShipStation integration and the MyOrderDesk REST API to your MyOrderDesk account. Please contact our Servicing team, or your Account Manager to get started with this integration.
You have some options to consider on how you want to push details into ShipStation.
You can set up each of your websites as separate stores in ShipStation (you are still able to see all of them in one place when looking for Jobs to ship). This requires that you follow the steps to integrate at the Master Account and each of your Branded Websites. This may be helpful if you want your staff to know exactly which website the Job came from in case you use your customer's shipping account to send out their shipments, or you handle their shipments differently.

You can set up your integration at the MOD Master Account level so that all Jobs from all sites push into one ShipStation Store. This is a quick and easy way to get started with ShipStation if you have a lot of sites. With this option, you can always go into your services area for a specific site and either disable the integration or create its own connection/ShipStation Store if need be.
Setting things up in MyOrderDesk
Category and Status Mapping
ShipStation has a series of statuses that you will need to map to a MyOrderDesk Category. This is so ShipStation knows that a particular Job is ready to be shipped. They will periodically reach out to MOD and retrieve new Jobs. If your Job has a category that maps to their Paid Status, they will add it to their queue in ShipStation for shipping. Note: A Job in MOD does not necessarily have to be paid, you just need to make sure that whatever Category you map to their Paid (Awaiting Shipment) Status is what you have set the Job in MOD to if you are ready for it to be shipped. The ShipStation statuses that must be mapped are:
Canceled

On Hold

Paid (Awaiting Shipment)

Shipped

Unpaid (Awaiting Payment)
You can create all-new Categories in MOD for this purpose, or use some of the default Categories set up in your account for you and add whatever else is needed (older accounts did not have default Categories so will need to create all of them if you haven't set them up for yourself already).
To create a Category in MOD, go to Admin > Order History > select the Advanced Search icon, and then the pencil icon (edit) next to the Categories box. See below.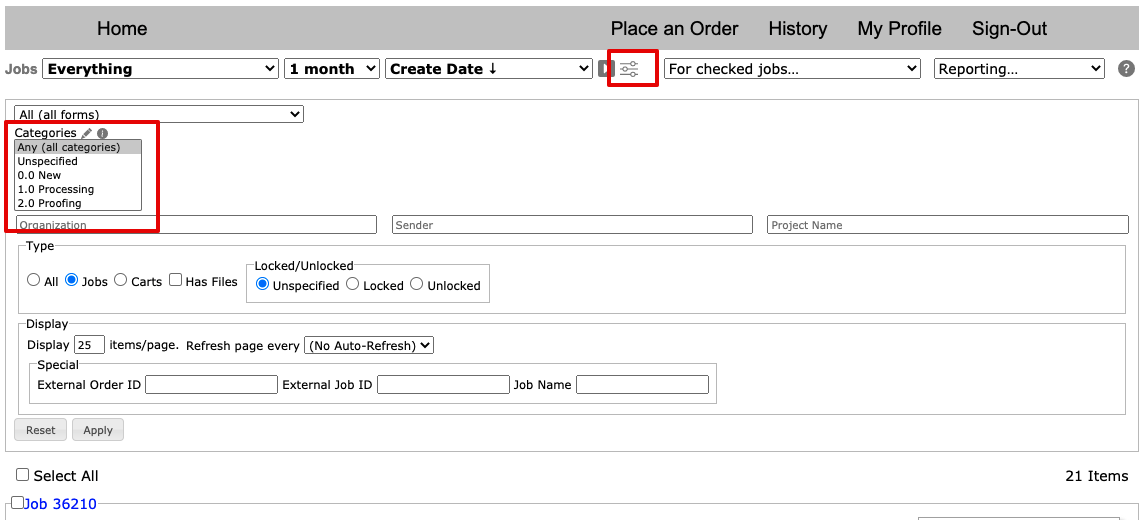 Here is a screenshot of my Category Setup page.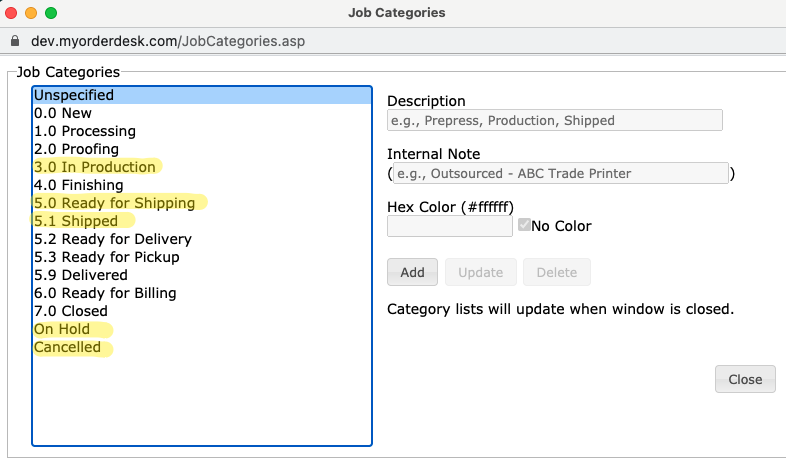 Notice that I am using a combination of the Categories already set up in my account, and I added a few additional. For my example I will map in this way:
MOD Cancelled = ShipStation Cancelled
MOD On Hold = ShipStation On Hold
MOD 5.0 Ready for Shipping = ShipStation Paid (Awaiting Shipment)
MOD 5.1 Shipped = ShipStation Shipped
MOD 3.0 In Production = ShipStation Unpaid (Awaiting Payment)
Helpful Tip: Once you have your Categories set up in one of your MOD sites, you can use the Copy Settings feature to copy those Categories to all your others. To do this, go to your MOD admin account and at the top of your left navigation, select the dropdown for your various sites. You will see an option for Copy Settings. Select that and copy settings for your Categories from the site you just set up, to any of the other sites you want to integrate with ShipStation.
Settings
Once the service is added to your account, and you've determined how your mapping will work, you will need to set up the integration in MOD. To do this, locate and open Admin > Services > ShipStation.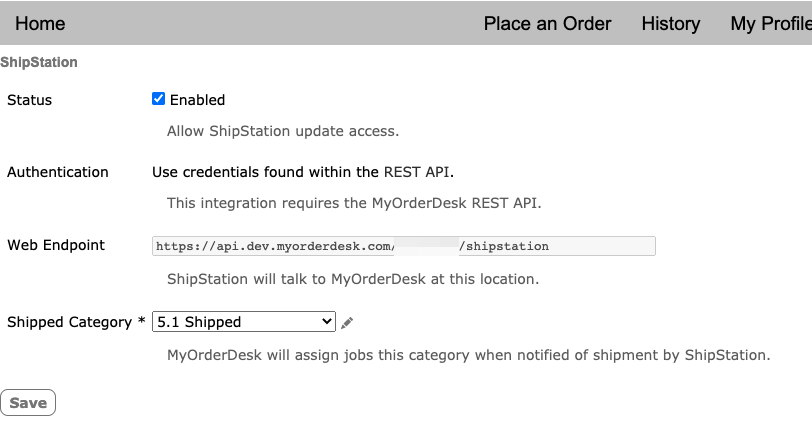 Status - Select the Enabled checkbox.
Authentication - In ShipStation you will need to use the credentials set up in the REST API. We provide a link to that area of Admin for you.
Web Endpoint - ShipStation needs a unique identifier for our integration with the two products. The URL you see here is unique to your account. You will be pasting this into ShipStation when you set it up.
Shipped Category - You will need to select what Category in MOD you want your jobs to be set to when ShipStation sends back a notification that an item(s) has been shipped. Select from the drop-down of Categories you have set up in your account.
Connect MyOrderDesk to ShipStation
Login to your ShipStation account. If this is the first time you are logging in, you will land on a welcome page where you can choose to Connect a selling channel. If you are returning to your ShipStation account, select the gear icon at the top of the page, and then select Selling Channels under Import Orders.
Select the Custom Store Option from the list of Selling Channels. A new window will launch that you need to fill out (see below).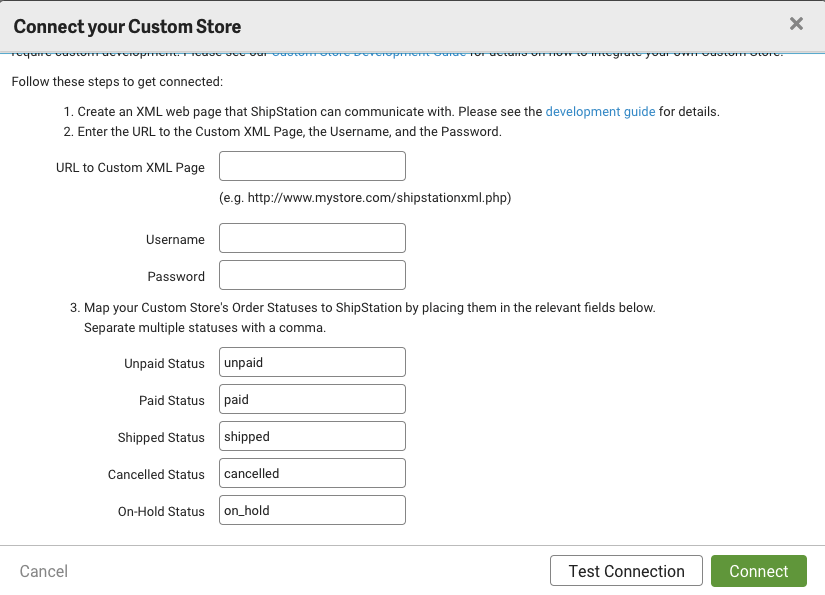 You will see three sections to complete:
1. The XML web page has been created for you, and can be found in the MOD setup area (Admin > Services > ShipStation), listed on the page as the Web Endpoint (refer to the screenshot at the beginning of this article).
2. Enter the URL to the Custom XML Page, the Username, and Password.
URL to Custom XML Page - Copy and paste the URL noted in item 1.

Username - This is your Provider ID
Password - This is the REST API Shared Secret (Admin > Services > API > Shared Secret)
3. Map your Custom Store's Order Statuses to ShipStation. Refer to the paragraph above under Categories and Status Mapping.
When everything is completed, select the Test Connection button to make sure everything is working correctly. You should receive a confirmation. If all is well, complete the process by selecting the Connect button, and then Complete Setup when you are done setting up your carriers and label layouts (Note: this article is focusing only on setting up the integration with MyOrderDesk).

Note: After configuring your store inside ShipStation, make sure to set your time zone in your store settings. If you are testing a Job without doing this, you may run into a problem with the Jobs not coming over.
Quick Look around ShipStation
To Add new Stores, or to Edit/Setup your stores, select the gear icon as seen in the screenshot below and then select Selling Channels.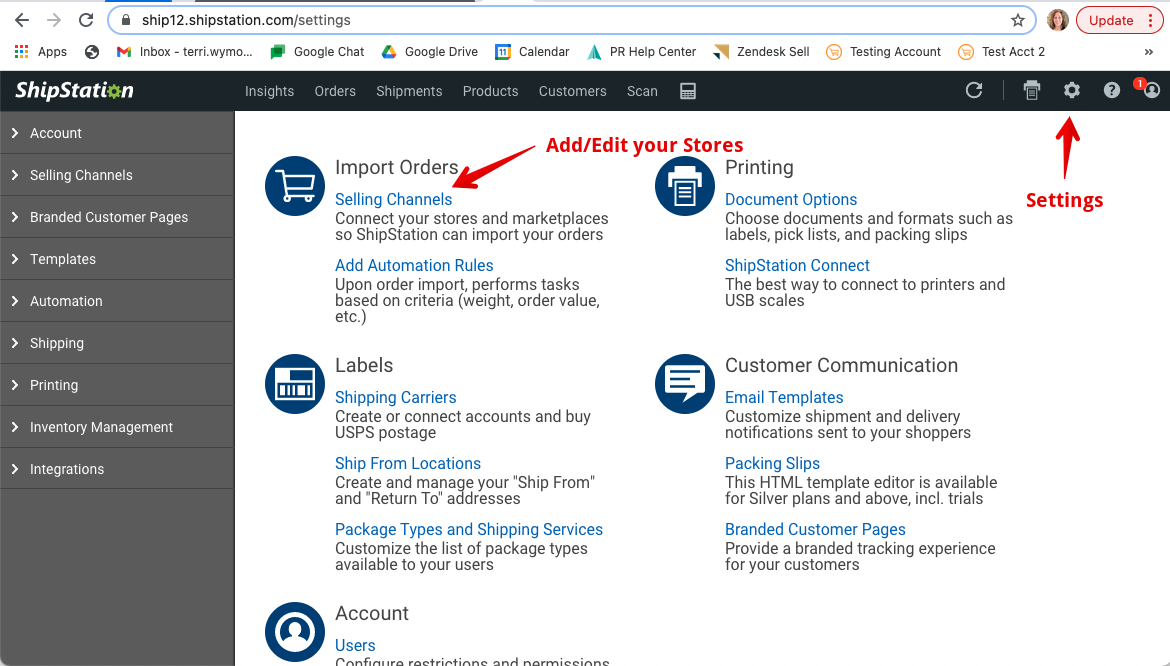 The Selling Channels link will bring up the list of Stores you have integrated into your ShipStation account as seen below.

To see your Orders that need to be shipped, select the link in their top navigation for Orders. This will display the various Status sections that we discussed earlier. Notice that I can easily see that I have 1 order waiting to be shipped, and that both of my Stores are displayed in the same area. I can select each store separately, or filter to see Orders for just one of the Stores I'm managing.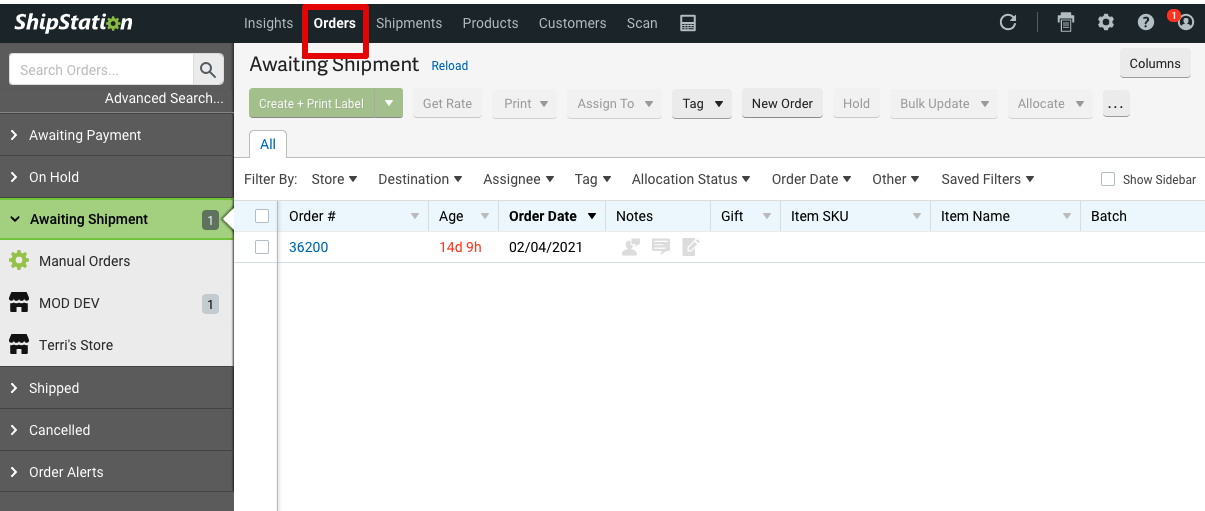 As mentioned earlier in the article, ShipStation will periodically go out and look for any new orders. If you would like to do this manually within ShipStation, select the icon shown in the screenshot below to Update All Stores.
Note: If for some reason you are not seeing a Job in ShipStation that you were expecting to be pushed over, go into your MOD Order History, make some type of change to that Job so that ShipStation see's it as something new, and try again by using the manual Update All Stores link.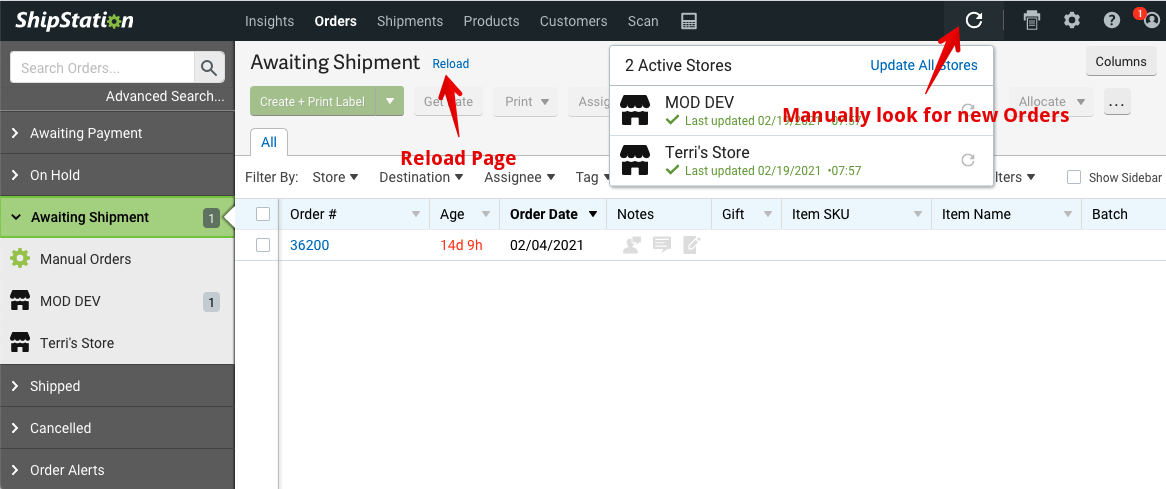 Please contact ShipStation for additional help navigating their product.