Midnight v8.7.0 (7/8/2023) Release Notes Follow
Behavior Change When Deducting Inventory
Multiple inventories of the same item were previously summed at the version level. With this update, the inventory allocation is now per item and will be treated independently as if they were different items. This logic was changed in both the Order and the Warehouse modules.
Program Fees Help Offset Your Costs
The term previously referred to as a Surcharge Fee has been changed throughout Midnight to be consistent with industry-defined terms. For those unfamiliar, when using Print Reach Pay for your credit card processing, you can offset your credit card fees with customizable Program Fees that can be added to credit card and ACH transactions. Program Fees work with Midnight Payments and Pay Now buttons. You can learn more here: https://printreach.com/online-payments/

Enhancement on the Accounting > Payments Search Screen
In our continued effort to make payments more convenient for our Midnight customers, we've added a column for "Amount Due" to the right of the "Total Applied" column as seen in the screenshot below:

Sage 100 File Export for Payment Data
Midnight now has a support for exporting Payment Data to Sage 100. This export will allow Print Reach Pay transactions to import with reference to the invoice.
To enable, navigate to Global Settings and Select Accounting Integration. Then pick the Sage100_MAS90 from the Accounting Integration menu.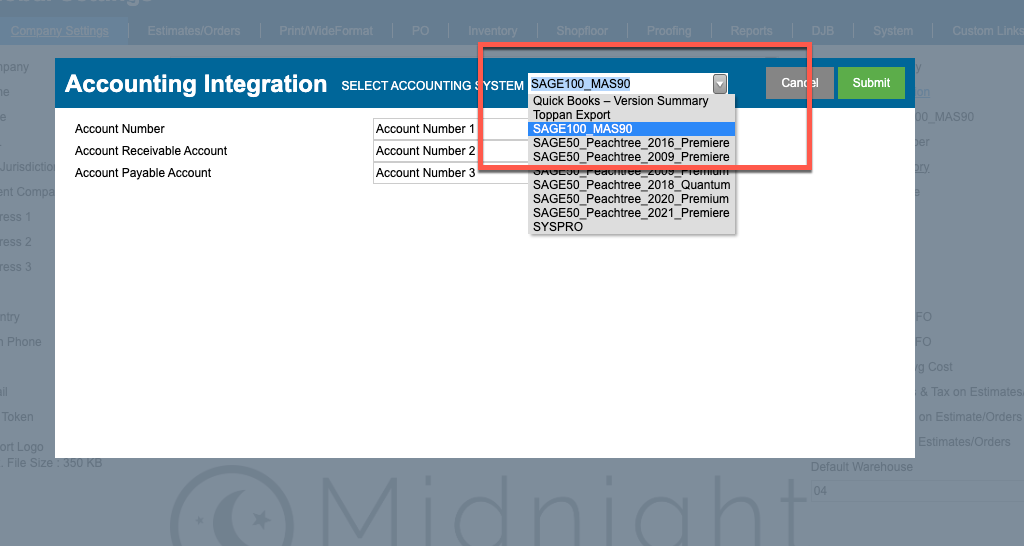 To export the Payment data, navigate to the Accounting - Payments screen and select the Quick Link for Payment Export.

Select the Payments to Export and click "Save & Close". Then select Export Now and the file will download to your computer.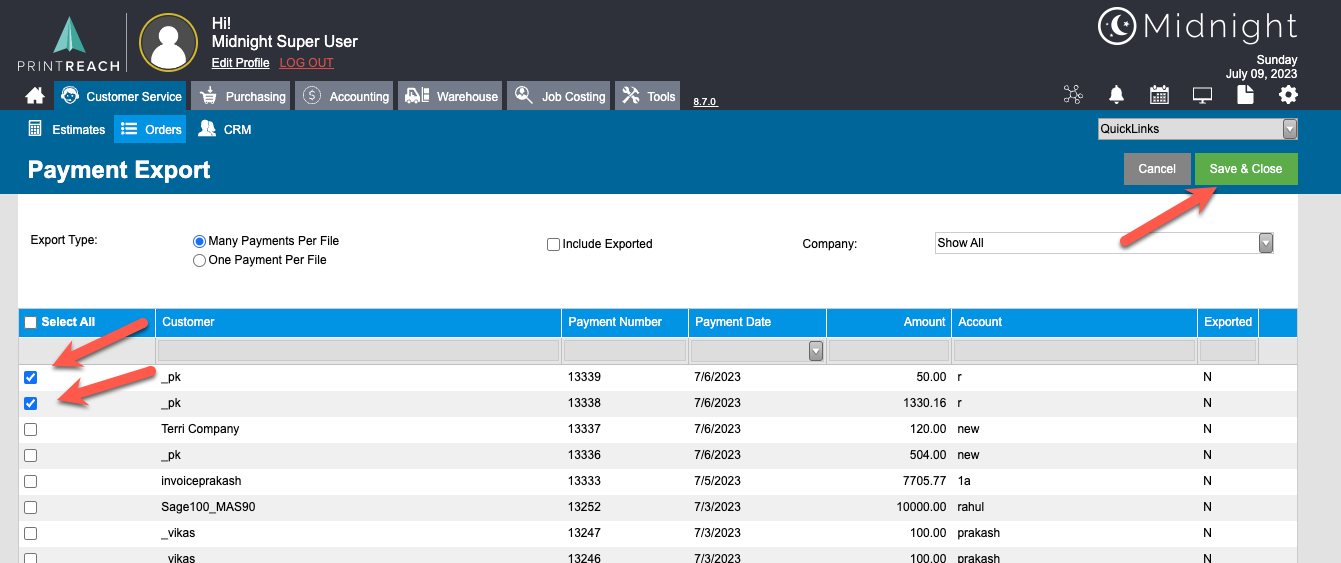 Marcom Central Interface Supports Multiple Storefronts
The Print Reach integration with Marcom Central will now support importing orders from multiple Marcom Central Storefronts. Contact your Account Rep for more information about the Marcom Central Interface and how you can add it to your Midnight installation.