FTP File Forwarding Feature - MKB 0105 Follow
The steps involved in setting up the FTP File Forwarding feature is as follows:
Step 1: Go into your MyOrderDesk site, click on the three bars in the upper left corner of the page, and then click on Site Settings > Options > FTP File Forwarding.
Step 2: Fill out the information on the page and be sure to change the "FTP Forwarding" drop-down to "FTP (autosend)" and "Enable Passive Transfer".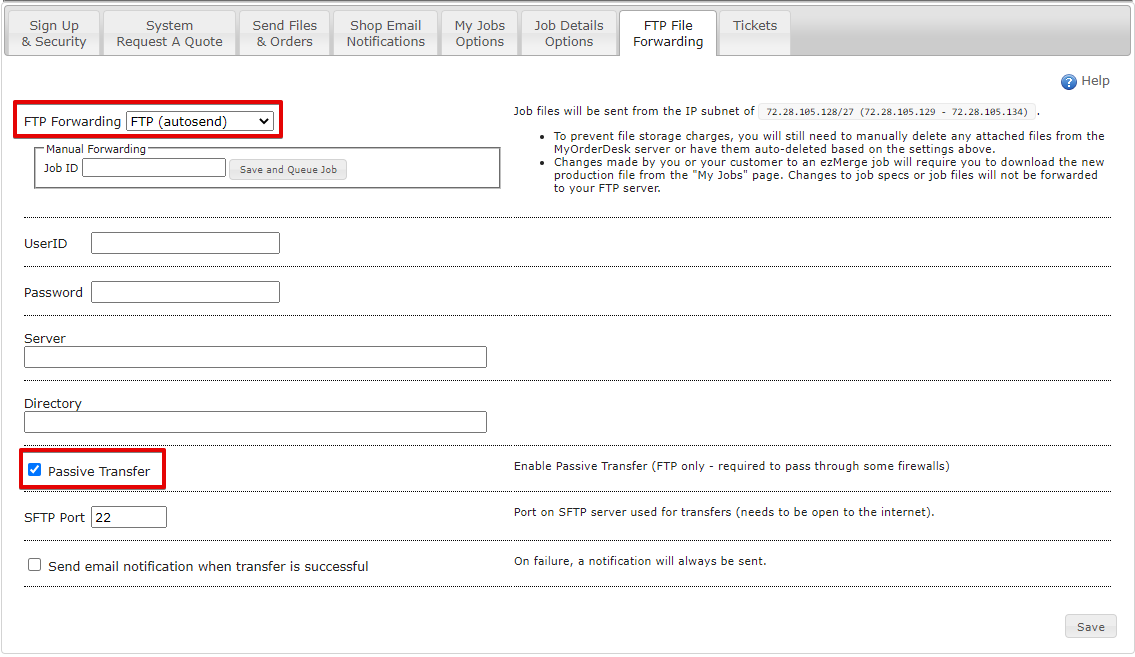 Use a slash "/" in the Directory field if you do not have a dedicated directory within your FTP server. You will NOT be able to leave this field blank.
This drop-down also includes a testing portion. This combined with the "Manual Forwarding" option, you can test if the setup is working before putting it into full effect.
Step 3: As orders come in (or as test orders are placed) make sure all attached files are automatically uploaded to your FTP server. You should log in to the server to confirm the files are there.
Step 4: Once you know files are being transferred, go to Site Settings > Options > My Jobs Options... and switch "Store Files" to 1 day.
...and switch "Store Files" to 1 day. You can also click the "Delete files after successful FTP Forwarding" to have your files automatically deleted from your MyOrderDesk site, once a transfer has been confirmed.
Once this change has been made any stored files will be automatically deleted at the end of each day, thus avoiding the triggering of your daily rate for file storage.