Midnight v6.8 (06/2020) Release Notes Follow
Midnight 6.8 Release Notes
Midnight Payment Processing
We have added a new payment processing module in Midnight that allows you to receive and process payments.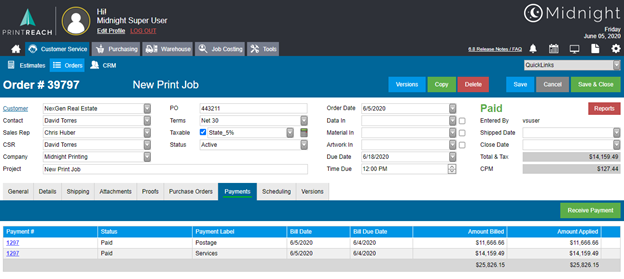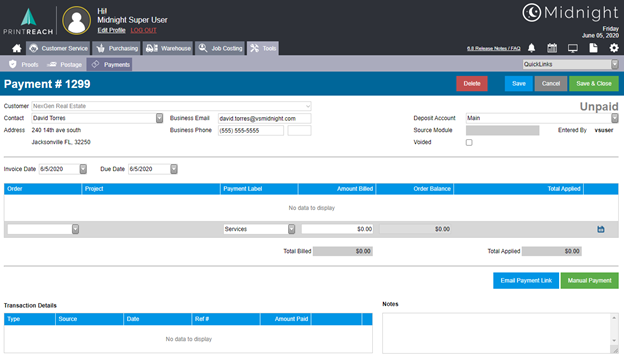 Print Calculator Ink Enhancement
This improvement now allows you to manage inks for offset printing individually. You are now able to adjust the coverage and price for each color as well as add or delete inks as needed.
To enable this new functionality, you will need to go to Admin>GlobalSettings>Estimates/Orders and uncheck Legacy Offset Ink Calculations.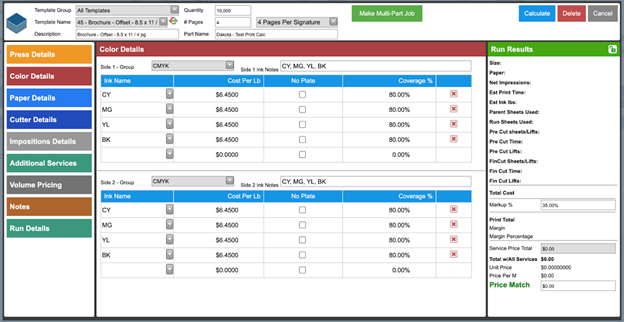 Client Portal Field Additions
Order Status Page.
Order Version Shipped Date field
Order Header Purchase Order field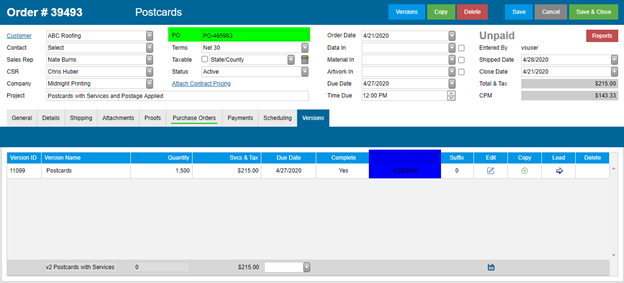 Attachments displaying in Order Details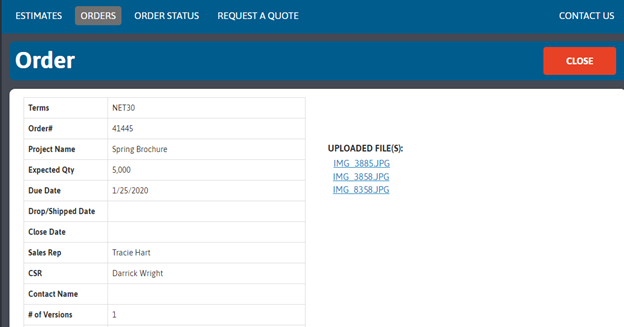 New Service Line Item Icons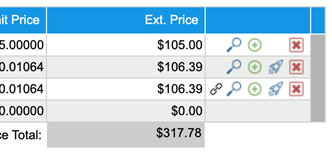 Create Paper PO Link
This is a quicklink in Purchase orders that will import all inventory items with an item type of paper or Envelope into the PO quickly and easily.

Rest API CUstomer List Method

Scheduling Tab in Orders
This new tab will allow you to schedule or make changes to the scheduled services directly from the Order.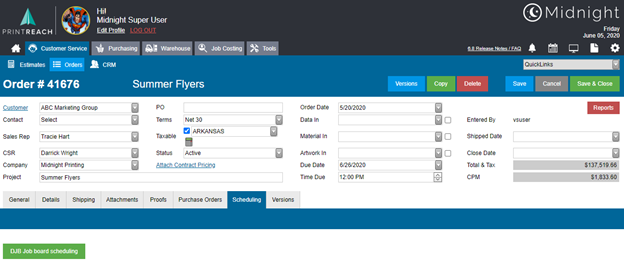 QuickBooks 2019+ Export File
We have added a new QuickBooks 2019 export file option. This export file works with the current QuickBooks 2019 and newer import validation option. Their new validation option will verify the data that you are importing and check for any errors or missing data in QuickBooks. If there is an error with the import, a new file is created that will show why the import failed.

New Widgets
We added 2 new widgets to the dashboard.
The Employee Timesheet will show the logged in users payroll time if you are using Midnight Time Clock option Job Costing.
The Open Orders by Rep (by Order Status) shows the status for each open order. There is an option to select a different Sales Rep from the logged in user.