Default a Report to Display All Pages Follow
Change the default of a report to display all pages
Ever notice that on some commonly used reports, like your estimates or your invoices, where you often have to use the menu to page through the report to see all of the data on the report? Are there reports where your team always chooses to click "Continuous" so you can easily scroll versus having to use the menu to navigate between pages?
Within the Midnight reporting tools there is an option to have a report default to show all pages when you run the report rather than solely displaying the first page (which then requires you navigate page by page to access the other pages). The control for this is in Admin and is set at the report level. Note that while this setting can be a time-saver, for longer reports, this change will also increase the time for the report to generate as all pages will be rendered when you run the report. Due to this, we do not default this setting on all reports nor do we recommend it on reports that might display all of the orders in your system at once.
To update a report so that all pages display, allowing you to scroll through the report using your mouse, go to Admin by clicking the gear in the top-right hand corner of the screen. Within the Admin Lists, click on Report Objects. On the right-hand side of the screen, you will see a list of all of your active reports. Locate the report you wish to update. Click the pencil on the far-right of the report to open the line for editing.
Click the checkbox for Show All pages. Click the Update button to save your changes.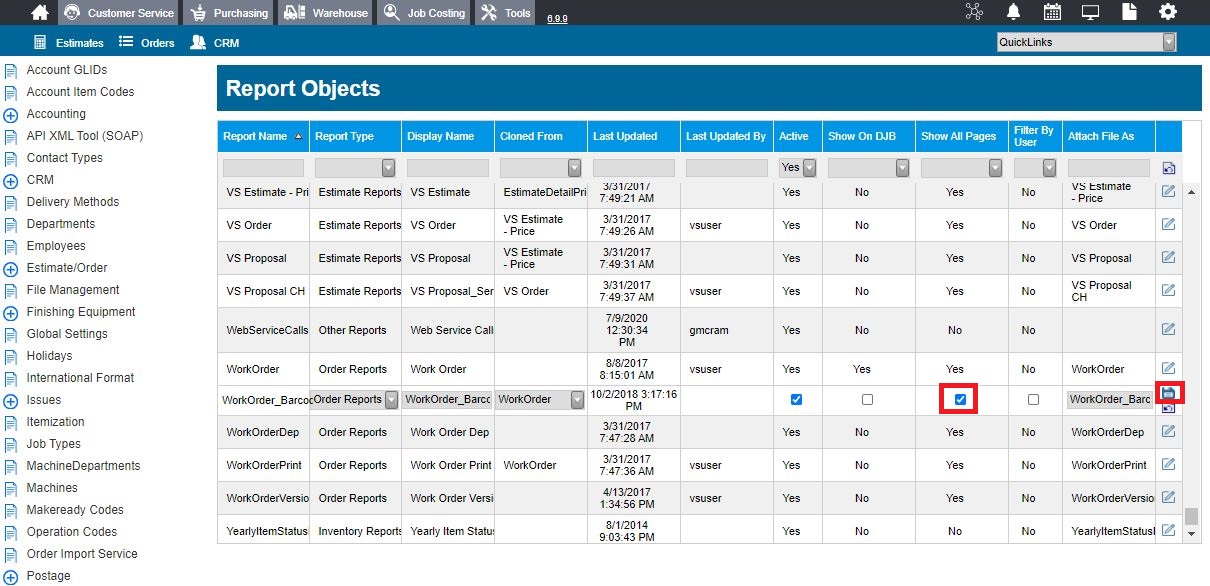 Once activated, you will be able to use your mouse to scroll through the pages of the report when you run it without having to select the "Continuous" option.