Midnight v8.8.0 (8/5/2023) Release Notes Follow
Exciting Updates to Shopfloor and Job Costing Modules!
We are thrilled to announce a series of enhancements to our Shopfloor and Job Costing Modules in Midnight. These updates are designed to streamline your workforce management and empower you with even greater control over employee time tracking. Let's delve into the key features of this release:
Introducing the "Time Card" Screen: The Job Costing module now boasts a brand-new "Time Card" screen, elevating your employee time tracking experience. With this addition, you gain access to a comprehensive Shift Record that combines Job Costing and Payroll details. This enables you to effortlessly view the actual work hours of your employees, including Clock-In, Clock-Out, Break-In, Break-Out, and more.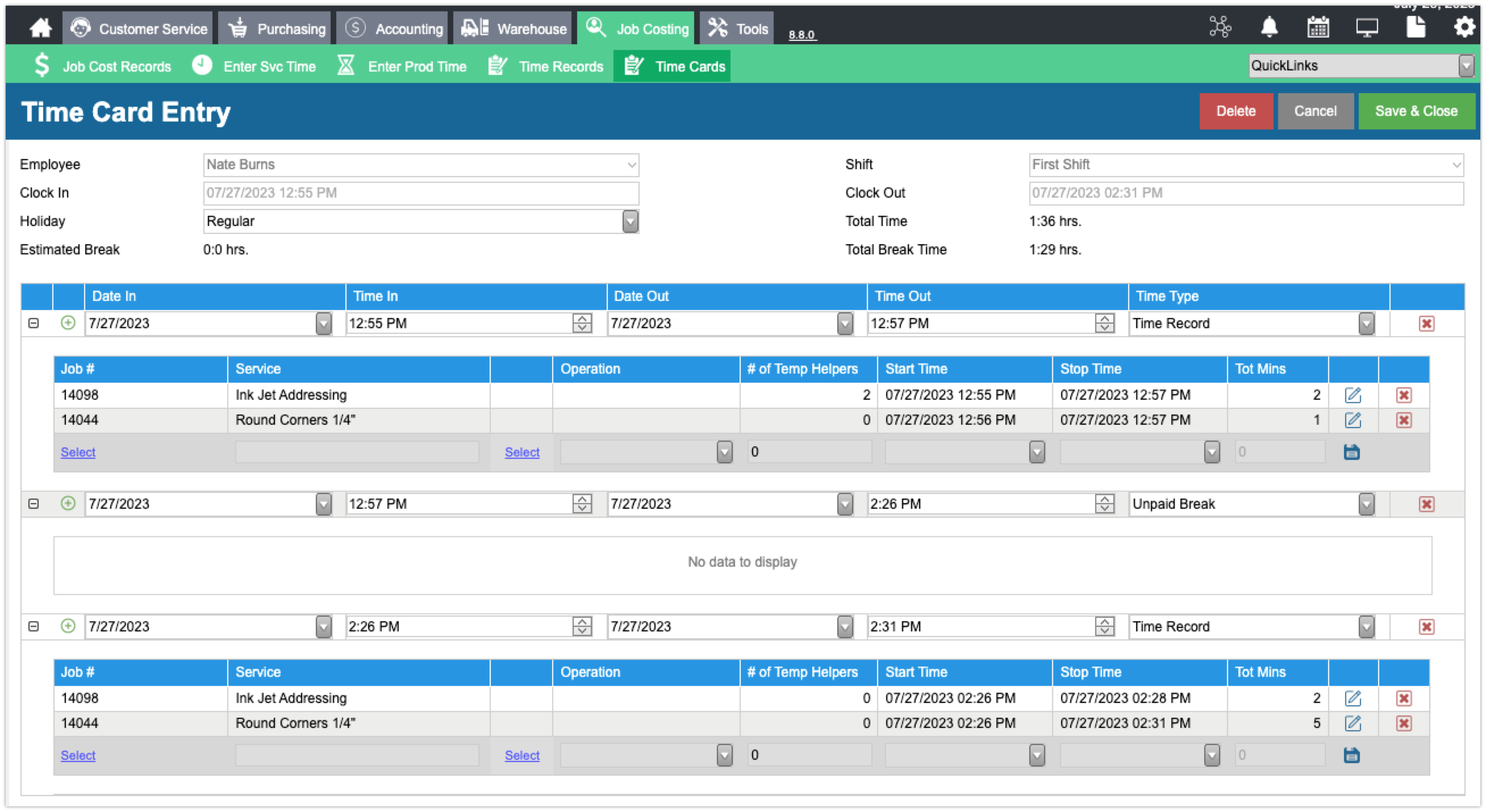 All New Approval Process: Our latest update brings an approval process to the Time Card feature. Managers now have the authority to review and validate the shift records of their team members. This means you can easily verify the accuracy of time records and make necessary adjustments when required. The seamless approval process ensures precise and efficient time tracking across your organization.

With these enhancements, managing workforce productivity and job costing becomes more straightforward than ever before. Experience the power of the new "Time Card" screen and take control of your employee time-tracking process like never before.
Enhancements made to the Order > Payment Tab
We are thrilled to introduce several significant enhancements to the Payment Grid within the Order Detail area, aimed at providing you with a more streamlined and insightful experience. One of the most notable updates is the addition of a new column called "Order Balance." This column displays the remaining balance due on an order at the time a transaction is completed, offering clear visibility into the financial status of each order as it progresses through various transactions.
Additional updates include:
Sorting by transaction date. This will help you quickly access and review transaction history in chronological order, ensuring better tracking and organization.
A "Status" field, which indicates the status of payment after a transaction. Whether it's "Paid," "Pending," or "Overdue," you can easily keep track of payment progress.
A Transaction Type (Trx Type) field, which clearly specifies whether a transaction is a "Payment," "Refund," or "Void."
Additionally, the "Payment Type" field displays the payment method used for each transaction. In cases of refunds or voids, the initial payment type will be retained for better reference.
We've introduced the "Program Fee" field, which represents any fees applied to a transaction if using Print Reach Pay.
The "Amount" field displays the actual transaction amount accurately reflecting payment, refund, or void transactions. The "Total Amount" field then consolidates all collected amounts.
The "Payment Balance" field, calculates the difference between the payment record and the collected payment. This field provides a real-time snapshot of outstanding payment balances.

UI Improvement to the Payment Detail Page
We recently received feedback from one of our customers, expressing their concern about the visibility of the Transaction details at the bottom of the Payments page.
In response to this feedback, we have reorganized the Payments page to better showcase the Transactions section. This change is solely a User Interface (UI) enhancement, aimed at optimizing space utilization and making your interactions with our platform even more efficient.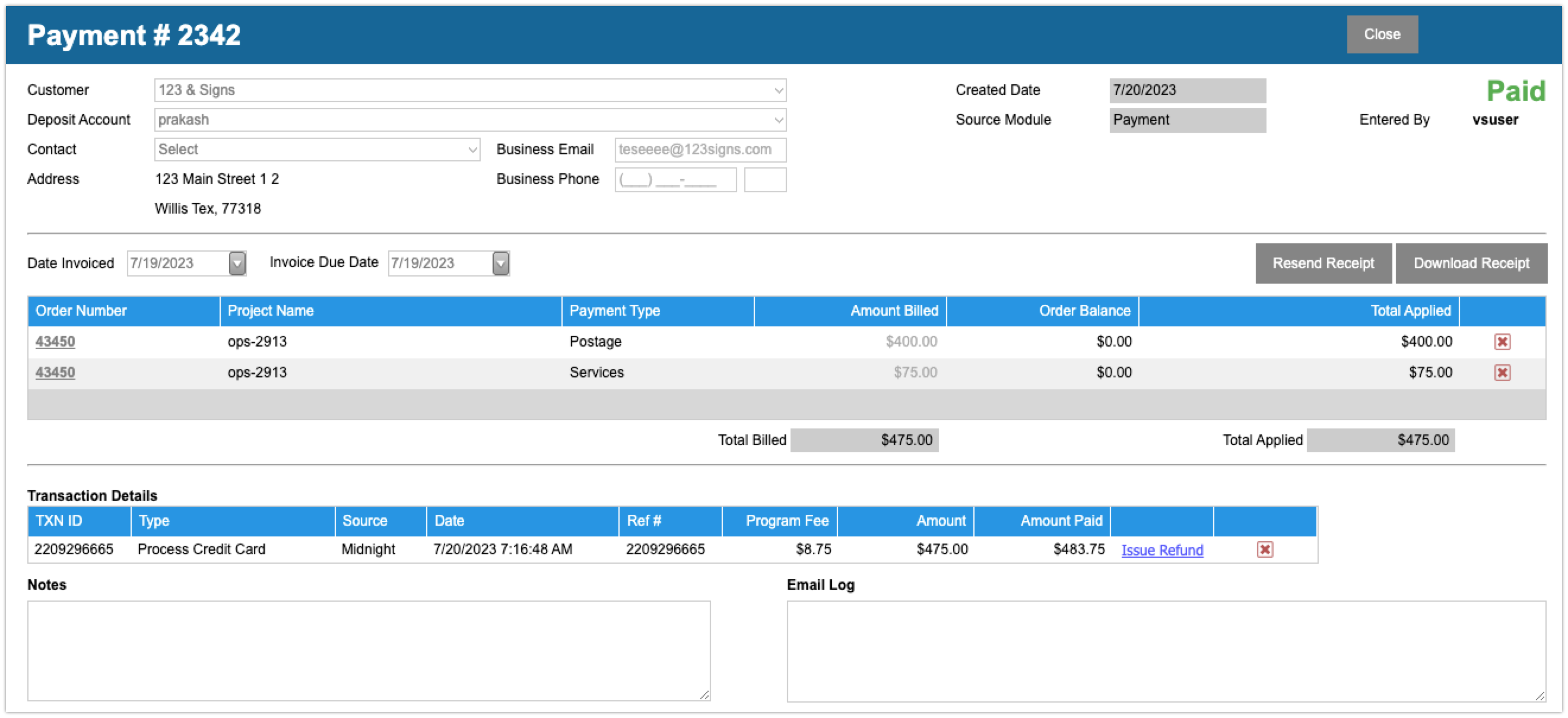 A Focus on System Performance within the Warehouse > Inventory Module.
A new drop-down menu has been added to the following tabs in the Warehouse > Inventory Module: Purchase Orders, Orders, and Transactions. The new change enhances system performance by loading a specific number of records. This improvement aims to ensure that all users can utilize the Warehouse and Inventory module with maximum efficiency, no matter the scale of their operations. The drop-down choices are: 10 Records (default), 50 Record, 100 Records, and All Records.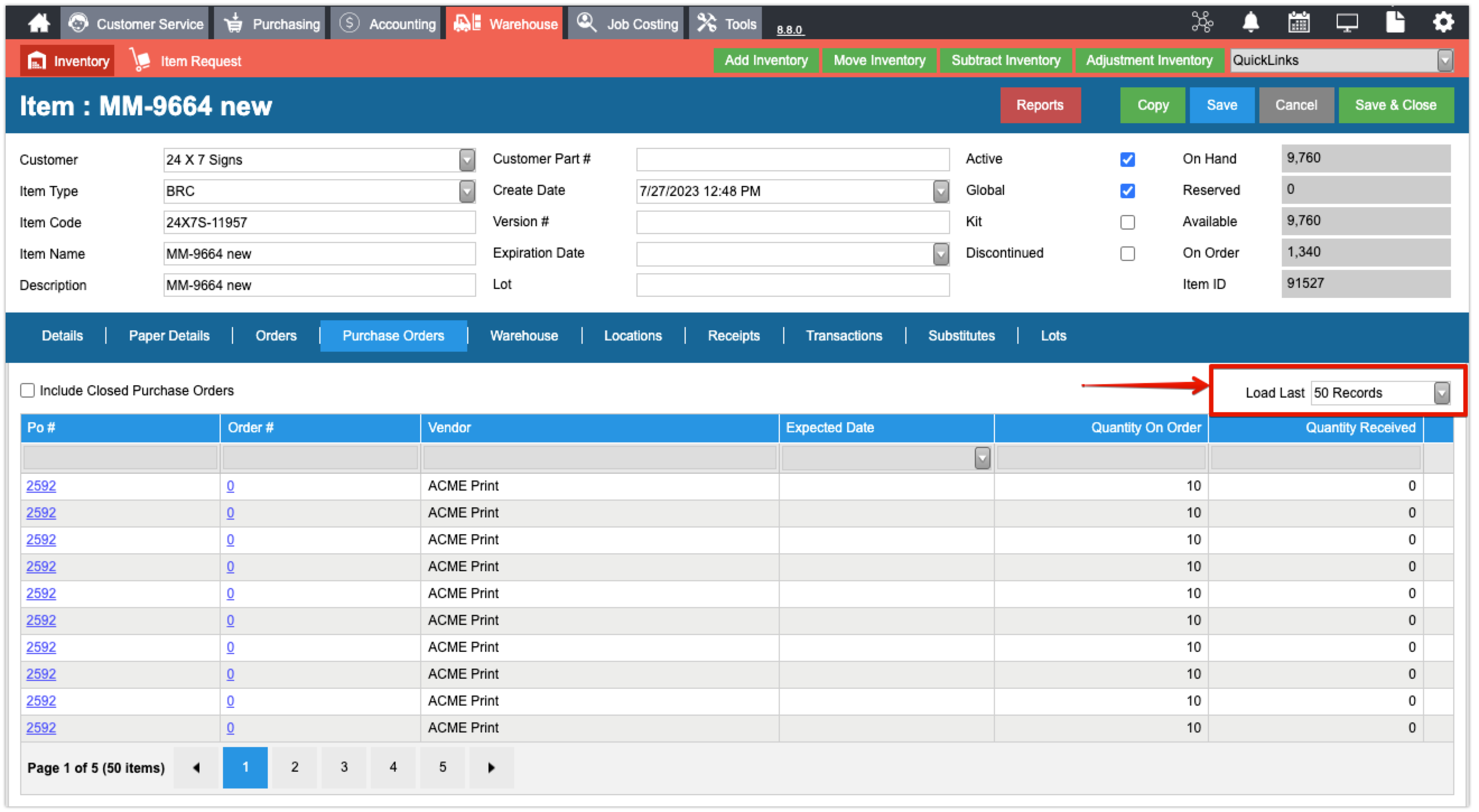 Two New Columns Added to the DJB Order View
Recently we added 2 new columns to the DJB Task View (Project Name and Project Version Name). We have now broken out these two concatenated columns into two separate columns on the Order View.