Overview
The first key report section is Posting. This section is for all reports regarding invoices and jobs that have already been posted.
There are four unique categories:
Summary of
List of.
Changes to
Accounting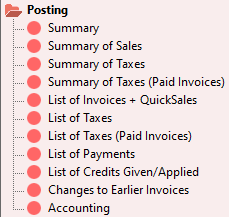 Summary Of: The four Summary categories show a recap of the sales and payments according to the date range. Summary of Sales shows a breakdown for each sales department.
List Of: This category has five different types of reports. These reports are broken down into individual payments or invoices.
Changes to Earlier Invoices: This report shows you the changes in invoices that have been posted BEFORE the time frame you choose. Ex. To see a change to an invoice that was posted on 2/10/2020, you have to set the date range for 2/11/2020 to now.
Accounting: This report is similar to the Summary but more focused on how invoices, sales, and payments are affecting the numbers and how things have changed since the last posting.