Set a Default Receiving Location Follow
Assign a default location for warehouse inventory receipts
When receiving items in Midnight or adding materials in the inventory app, there is the ability to set a default receiving location to help make the process more efficient. Likewise, you may have noticed that when you create a new item within the inventory app or receive materials in Midnight, there is a location field that may be populated with a location that needs to be updated to reflect the team's current processes.
Midnight allows you to define a default receiving location to save your team keystrokes when receiving inventory. If items are placed in a different location, the team can still edit the location to reflect the proper location for that particular item. Having a default receiving location set in Midnight can make it easier and more efficient for the team if items are generally received into a set location and then later moved once space is found.
Within the Admin module, you may define (or change) the default receiving location for your warehouses. To make the change, click on Admin using the gear in the top-right hand corner of Midnight. When the screen opens, click on Warehouse to expand the list (near the bottom of the Admin lists on the left). Click on the Warehouse option in the list.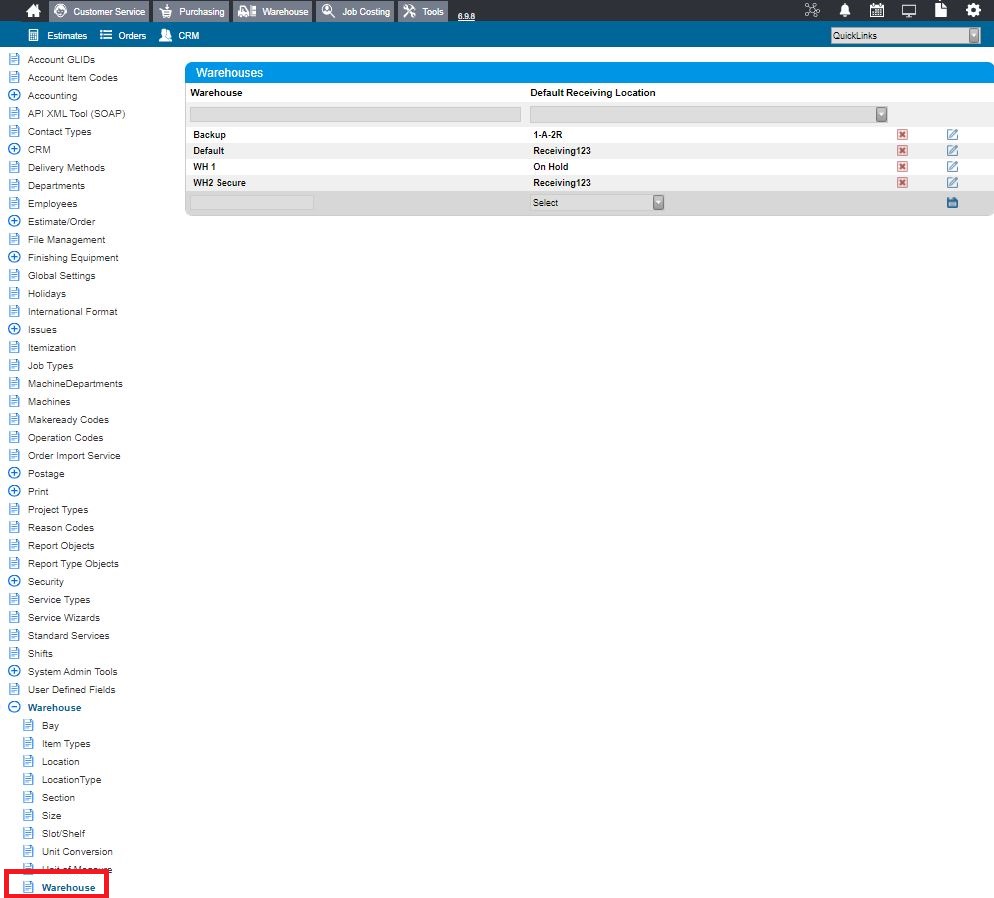 On the Warehouse screen, you will see designations for each of the warehouses you have set up.
To add or change the default receiving location for a warehouse, click the pencil on the right of the warehouse name.

In the Default Receiving Location field, select the location you wish to assign as the default. (The location drop-down pulls from your Location List.) After you have updated the drop-down, save your change by clicking the update icon.

When the team next creates an item within the inventory app or receives an item in Midnight, the default location will populate for the add/putaway portion of the transaction.

Know that even if a default location is set, the team should still change the location if the item will not be placed into the default location.