SMTP Email Templates With Printer's Plan Follow
When beginning to use Cloud-Hosted or wanting to use this feature with local Printer's Plan there is some set up involved regarding email and templates. By default, the email templates have example data on them and will need to be customized for each customer.
SMTP Setup
Before emails can be sent from Printer's Plan, the SMTP settings will need to be updated with your existing email provider's SMTP information and optionally the IMAP information.
These SMTP settings can be updated from the 'Settings' tab in the 'General Settings' section. Select SMTP Settings to update the information.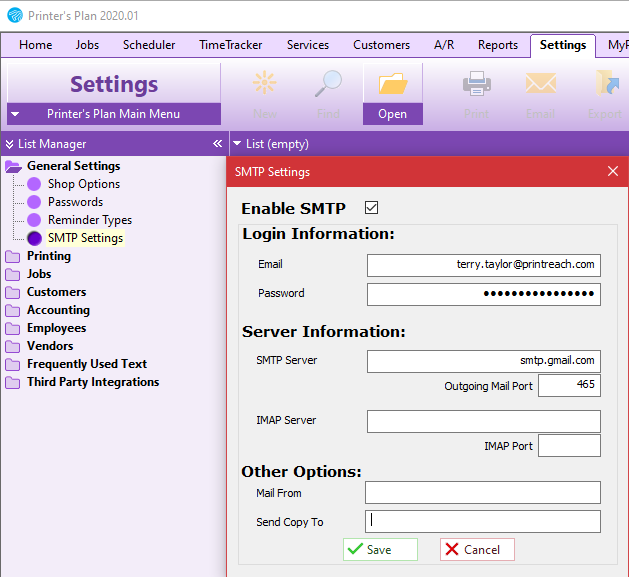 For more information on your email provider's SMTP information check with your email provider.
Sending Emails Using Printer's Plan.
Once the email provider's information has been entered into the SMTP Settings menu, check the 'Enable SMTP' box to begin sending emails using this configuration.
There are 2 ways to send emails from Printer's Plan:
Using the Print Window to Send Email: Select a job or quote and use the 'Email' button at the top of Printer's Plan to send a form letter. Once selected a prompt to choose a template will appear. This gives more freedom to select what template you want to use based on why you are emailing the customer on this job.
Using the Email button: Select and open a quote or invoice and choose 'Print'. In the print window settings, there is an option for 'Email PDF' which will default to using the template associated with the type of attachment being sent. If sending an invoice then the invoice template will be selected automatically.
Before sending emails from Printer's Plan it will be important to update the default templates. These templates are found in the Printer's Plan directory.
Use the included File Browser in either the web-based client or the RemoteApp resource to open the cloud-hosted machine's file directory. The account should have a 'Quick Access' list to the left-hand side for the Email folder.
If you don't have the Email folder in the Quick Access panel, navigate to the directory: C:\inetpub\wwwroot\PlanWeb\App_Data\Email
In this directory there are 2 types of templates:
Plain Text: These templates will contain a body of text with a text-based footer. No images or hyperlinks can be added.
HTML: HTML templates can be updated using the included HTML WISWYG editor to include network hosted images and hyperlinks to web pages.
Printer's Plan will use the HTML version of a template if there is one created. For example, if sending an invoice via email and there is both a plain text version and an HTML version, Printer's Plan will use the HTML template by default.