Applying Late Fees In Printer's Plan Follow
In Printer's Plan when a customer's account balance is overdue the option to apply late fees is available.
To apply a late fee to a customer's account, the customer account must have the option selected. In the Customers tab in the customer information page, there is a 'Late Fee' option.
To apply this default for all new customers that will be added, update the customer number 10 which is reserved for customer defaults.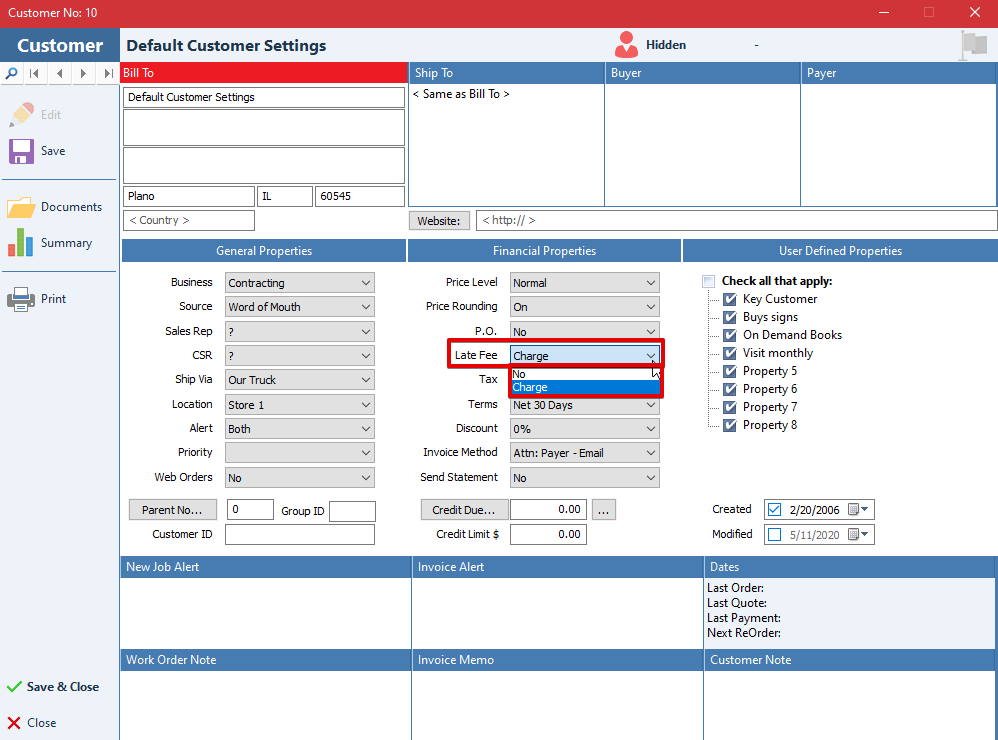 This selection must be made for all customers that will be charged late fees.
Navigate to the A/R tab and select 'Late Fee' and choose either chargeable or charged to view the respective information.

In the 'Chargeable' section, there will be a list of customers with invoices that have overdue balances based on their terms.
In the 'Charged' list there will display a list of customers who have invoices with late fees applied already.
To apply a late fee to a customer's overdue balance, highlight the customer that appears in the list of customers, and on the far right side select 'Charge Late Fee'.

Once the customer is selected and the button to charge late fees is clicked, a menu with several options will appear. Here is where the amount to be charged can be entered.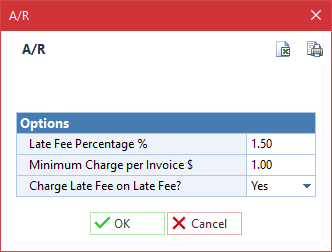 The option to charge late fees for the late fees being applied is available as well.
Once the information is correct, click OK to proceed to apply the late fees. Upon confirmation, the number of invoices that will now have late fees will be displayed.
Now the late fee amount will be displayed in the customer list under the A/R > Late Fee >Charged option.

Late fees are applied based on the current conditions of the customer's terms and the late fee option is enabled. If a customer isn't appearing in the 'Chargeable' list then they have not met the requirements for the late fee based on the account information.