Midnight v6.9.3 (9/21/2020) Release Notes Follow
Visual Imposition (Sheet Fed Presses)
We are very excited to introduce visual imposition to the Midnight print calculator. This is not only a new way of visualizing imposition in Midnight, but is also an improvement to the previous imposition formula. With this enhancement, imposition in Midnight can now account for Dutch Cuts, gaps between pieces, print alignment and will also calculate the number of cuts needed on the imposed page. This functionality is currently only for sheet fed presses; roll imposition will be in a coming release.
A key point to note is that we have removed the cutting tab and moved the pre cut setting to the paper tab and the finish cut section to the imposition tab.
If for some reason you want to turn off this feature you can do so in the global settings by checking legacy print calculator checkbox.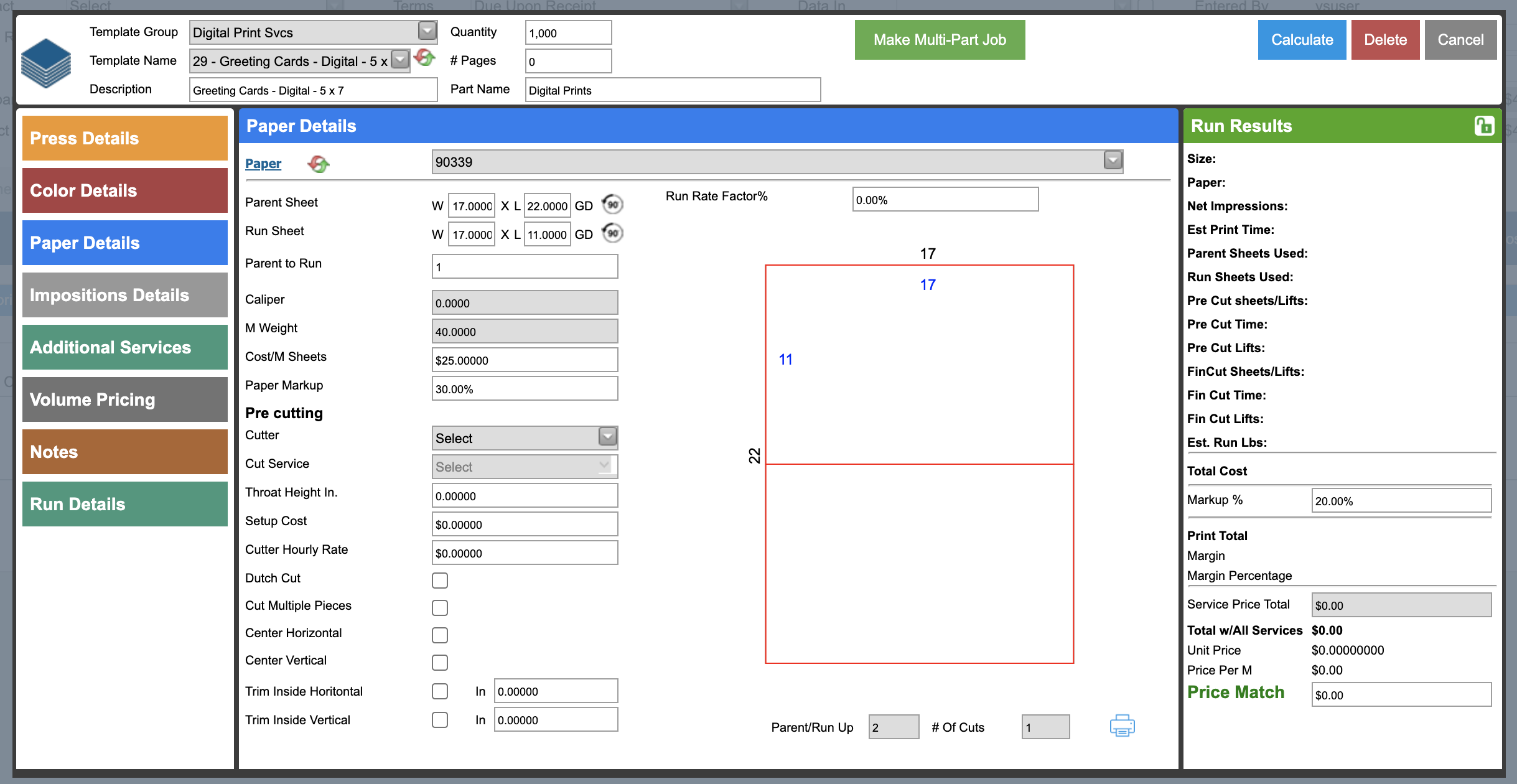 Screenshot of the Paper Tab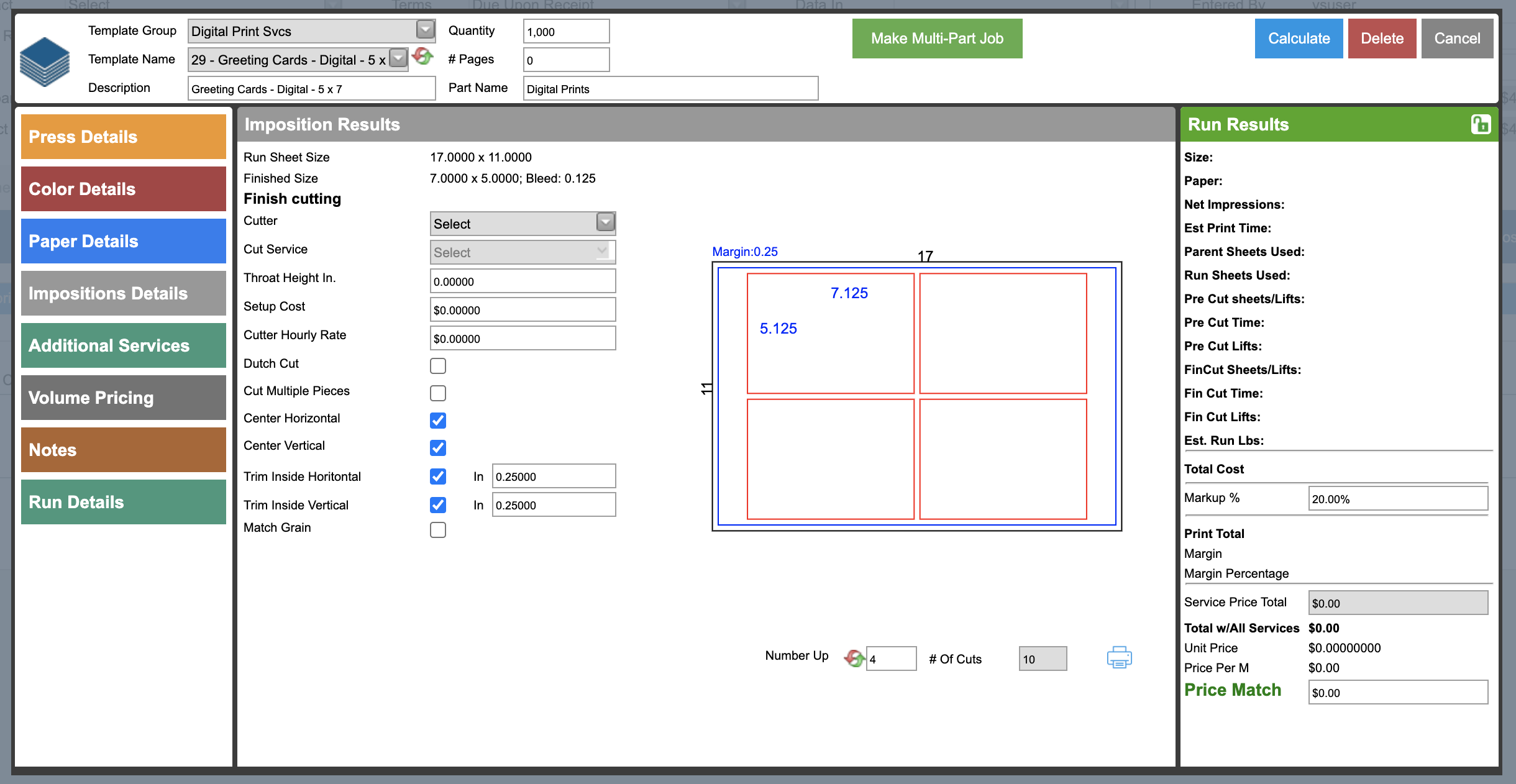 Screenshot of the Imposition Tab
Export Estimate to an Order Version
Users now have the option to export an estimate to an order version using the new Export to Order Version button. This will let a user choose what job they would like to create a new version in using the current estimate. This feature will also work from the multiple quantities tab.

Screenshot of the estimate header with the new export to order version button

Screenshot of the export to order version link in multi quantities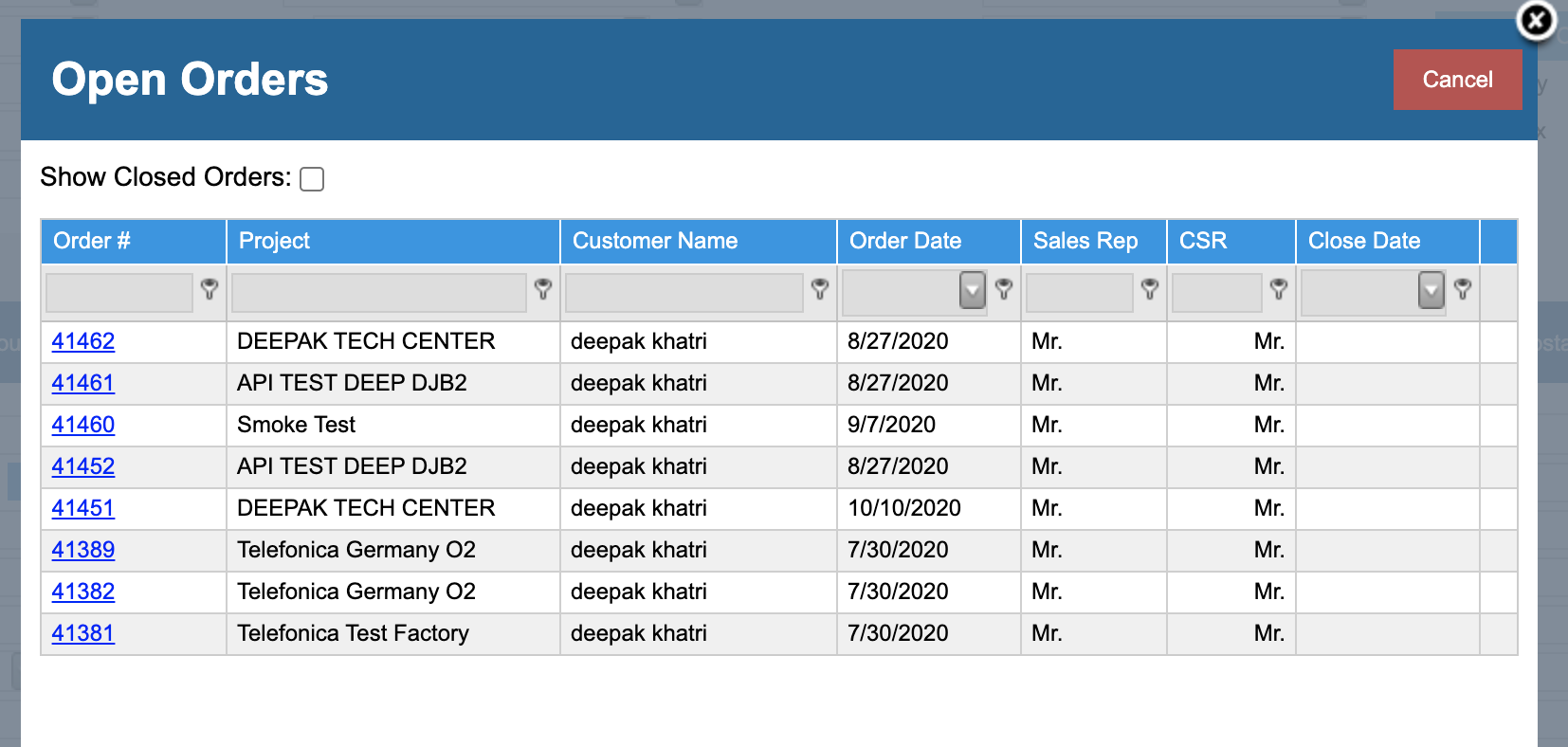 Screenshot of the screen for selecting what order to export to
User Defined Fields for Contacts
Customer Contacts now have 30 User Defined Fields available to them.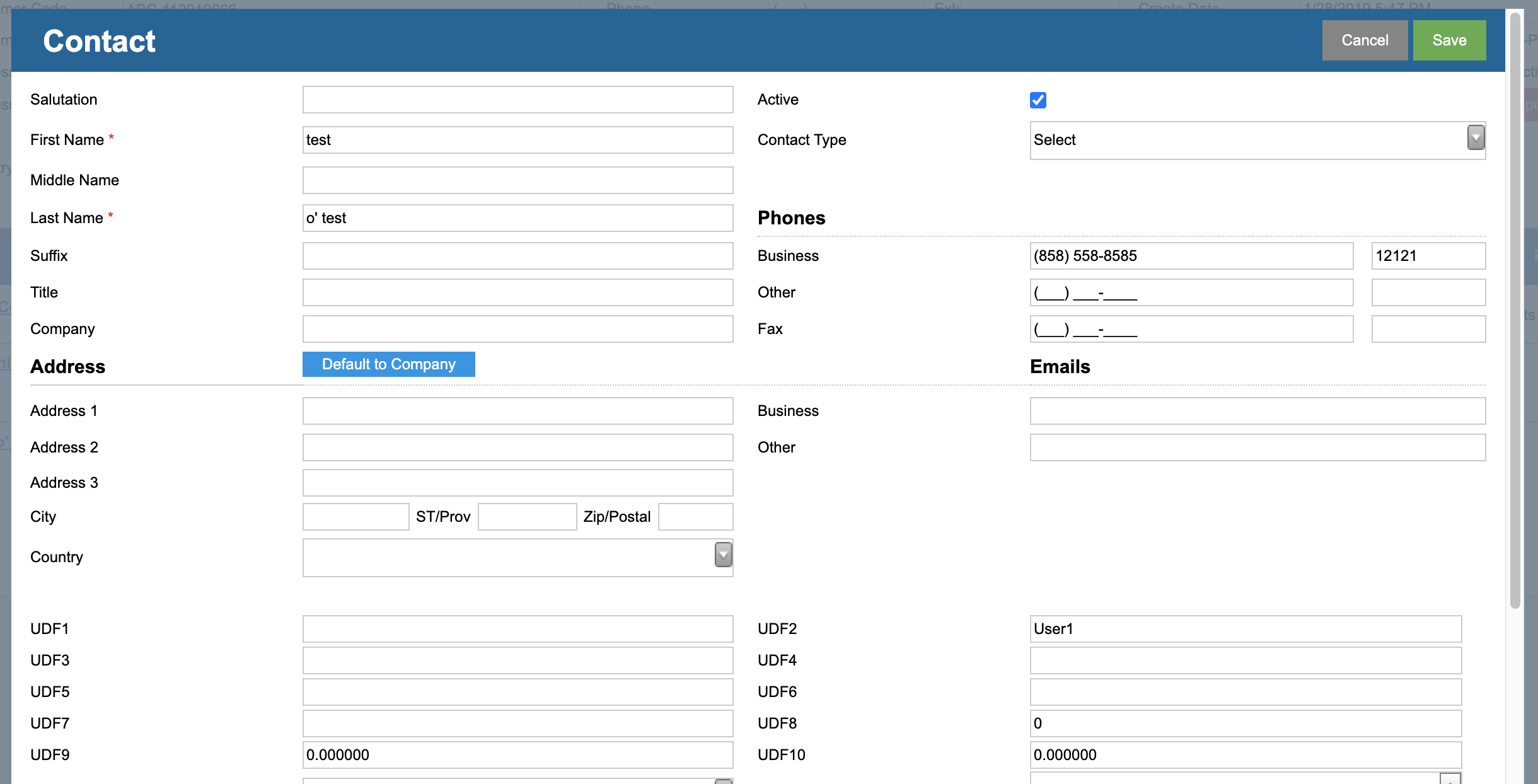 Wide Format Quick Add Inventory
The ability to add material directly from the Advanced Wide Format calculator has been added to all three material drop downs. This feature is also available in the AWF templates.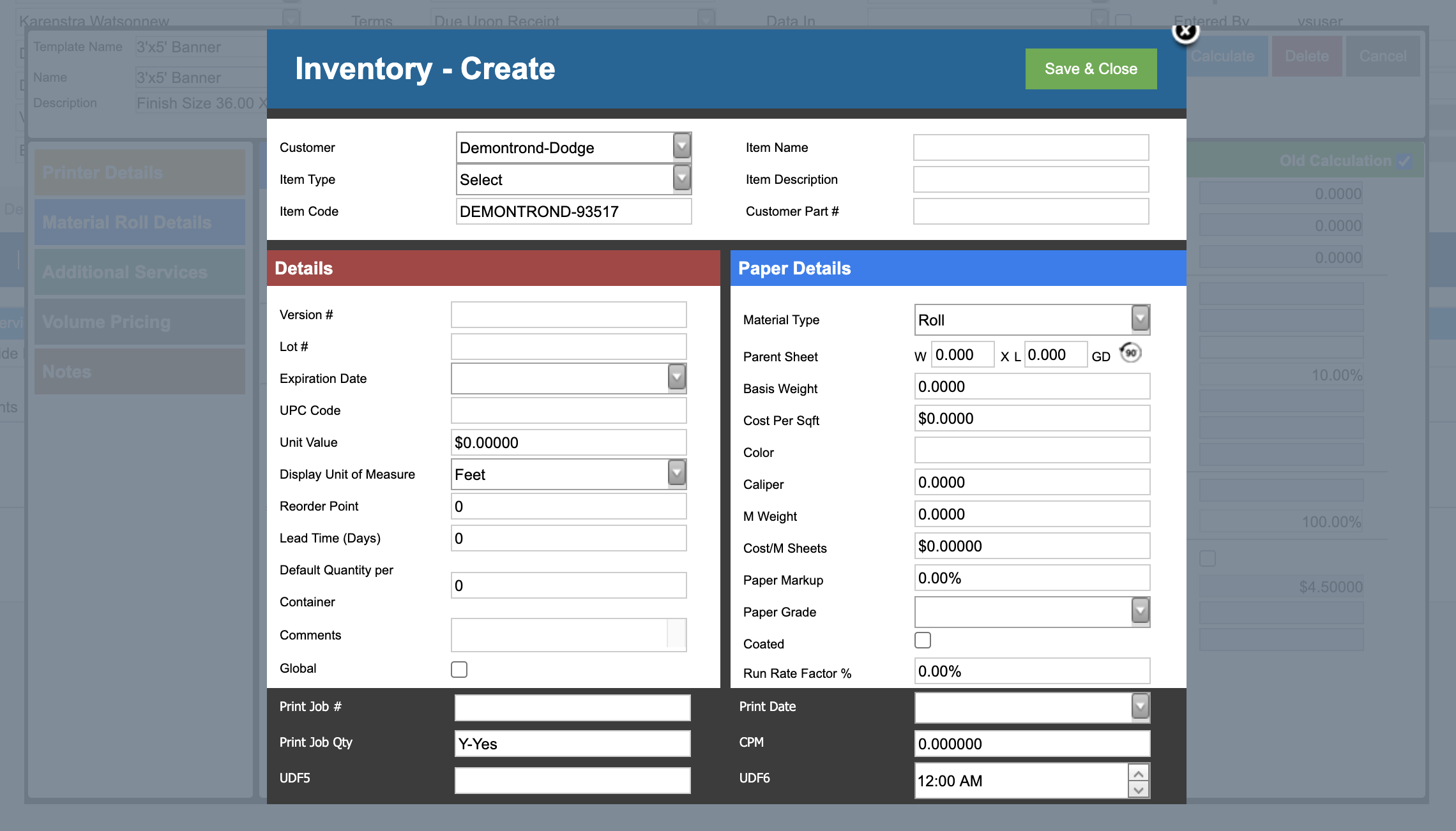 Weight in Run Results for Sheet Fed Jobs
We will now display the run weight in the run results for sheet fed jobs.

Digital Ink by Area extra decimal places
We have added 3 extra decimal places to the digital ink calculation when using the area option. This will allow users to calculate more accurate ink pricing for inkjet presses.

Performance Improvements in the Order Postage Tab
When more than 10 postage records are present on a page this previously caused a severe lag in performance for the orders page. This enhancement corrects this performance issue and should help order loading time by approximately 10%.
Edit Version Dropped/Billed date from the DJB
From the DJB, a user now has the option to update the Dropped Shipped dates for the order from the Order View. This feature can be enabled in Global Settings>DJB.


Recently Release or updated Knowledge Base articles