Midnight v6.9.5 (11/4/2020) Release Notes Follow
Midnight Knowledge Base Icon
You will notice in this release that there is a new icon in the navigation in the upper right. This icon will take you to the Midnight knowledge base where you will find helpful articles about using Midnight.

Wide Format Waste Enhancement
Wide Format Calculator users may now determine the waste on Material, Laminate and Mount materials separately. This is accomplished through the addition of 3 new waste fields shown in the screenshot below.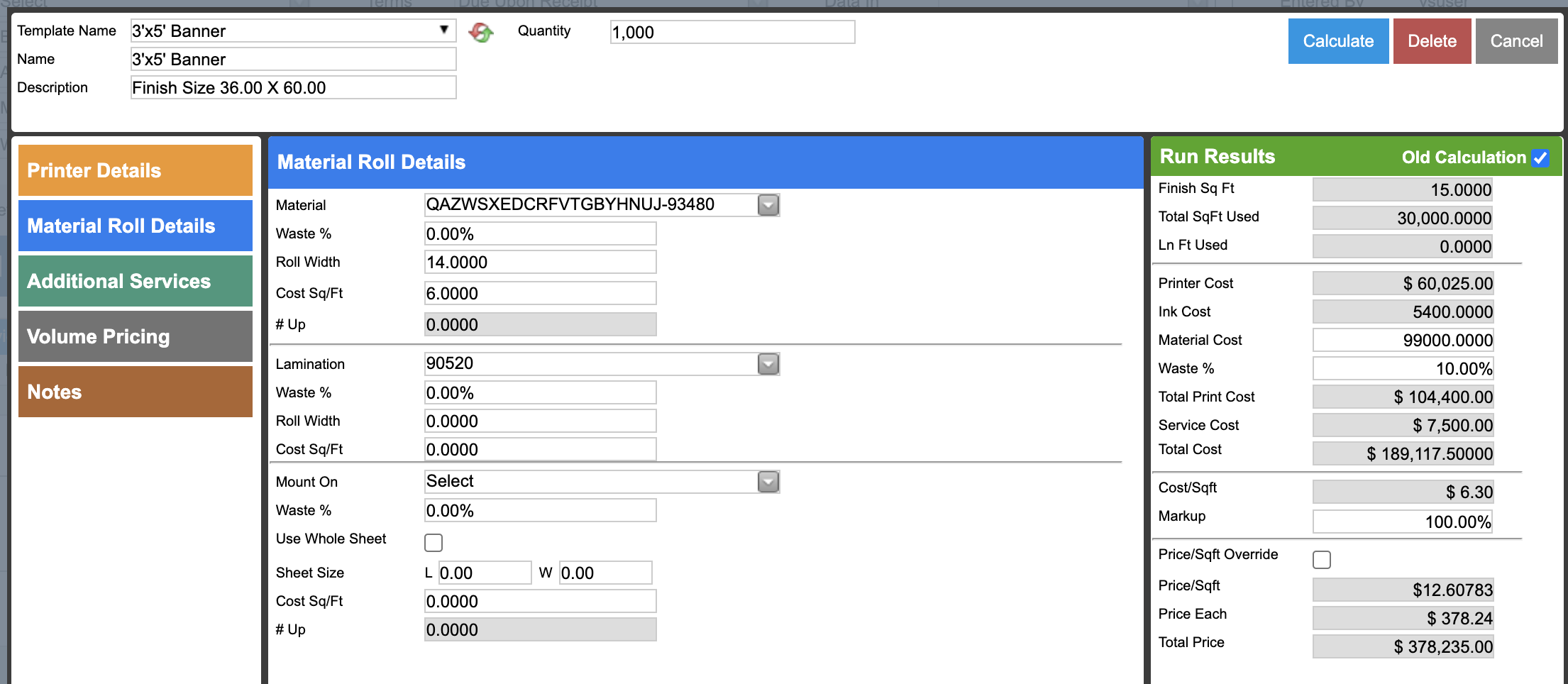 Base Make Ready for Offset Color Unit Make Ready
To add to the existing Color Unit Make Ready we have added the ability to determine a Base Make Ready as well. This will be a starting value that will be in addition to the total of Color Unit Make Readies. You may set a default value in the Press Standard and Print Product Templates. This is relevant in both Sheet and Roll Offset Presses.

Make Wide Format Work with Multi Qty Estimates Edit Link
Wide Format calculators are now editable in the Multi Quantity edit dialog. You will notice that the rocket launch icon will now be present when a wide format calculator is on an estimate.

Payment Processing Email Attachment
When emailing a customer a link to pay you are now able to attach a file of your choice to the email.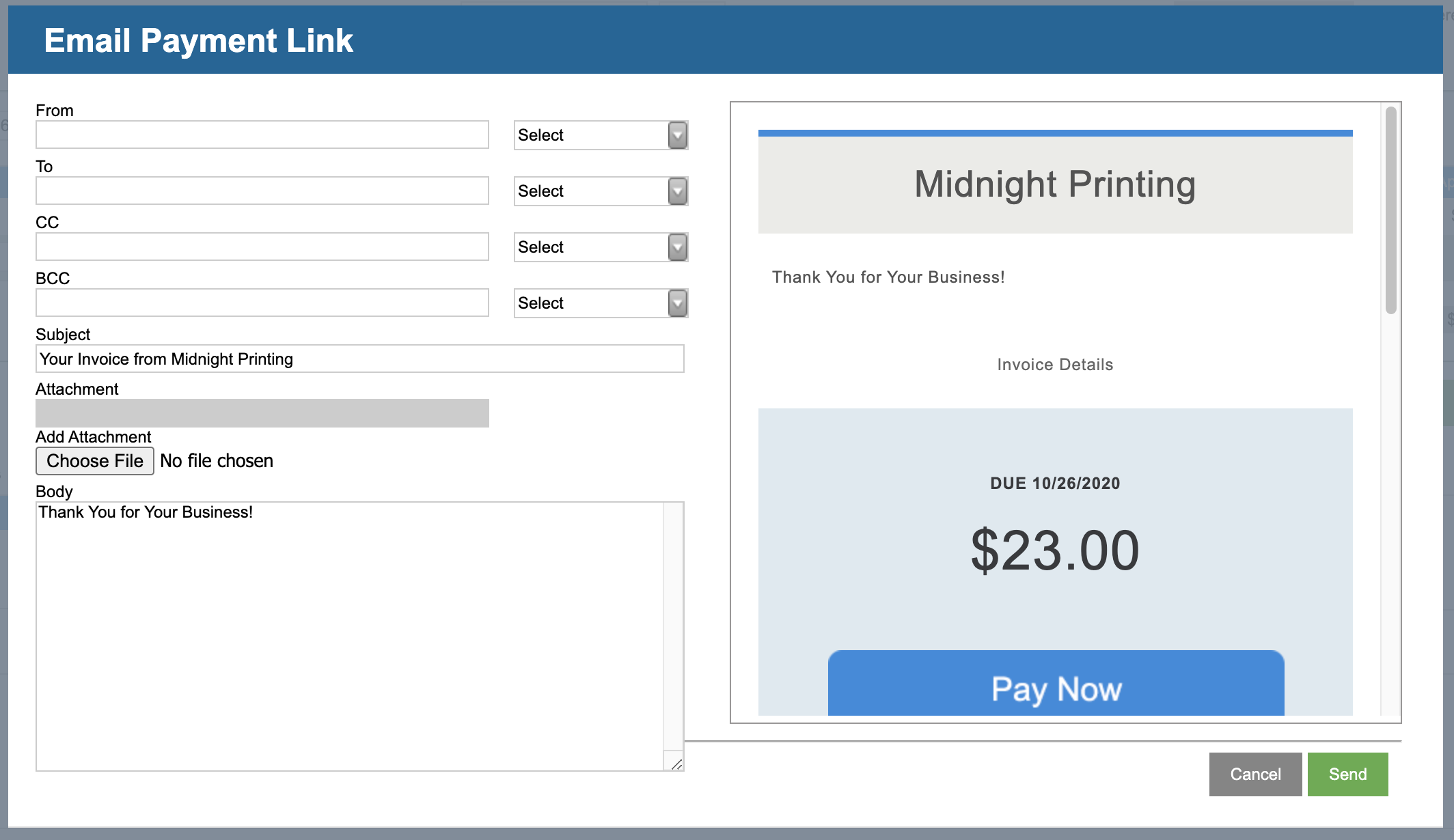 CC Field in Standard Email Screen
The standard email screen now has the CC field available for users to take advantage of.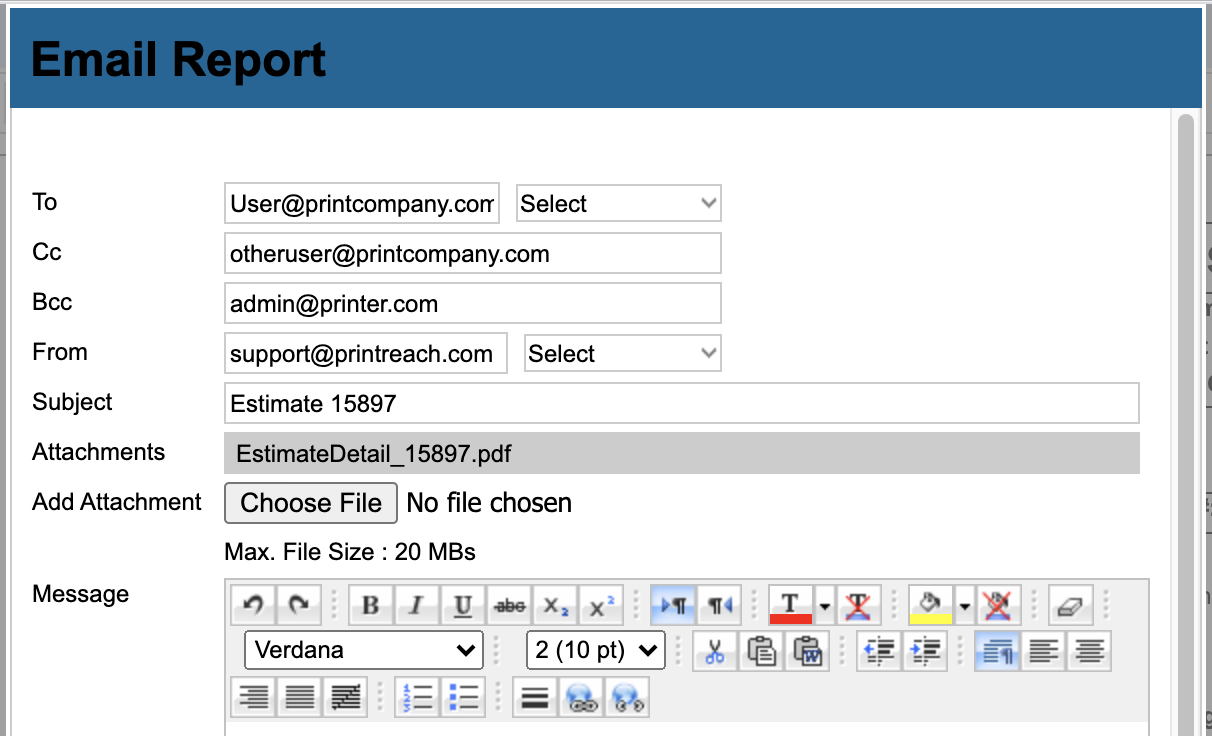 Default for Visual Imposition Settings
Users not have the ability to default the options available in the visual imposition for pre cutting and finish cutting located in Global Settings>Print/WideFormat.

Print and Wide Format Settings get their Own Tab In Global Settings
The settings and presets for Print have not reached a point where it became necessary to move those setting onto their own tab in Global Settings. This tab is called Print/WideFormat.

Default Postage Account for Payments
Located in the CRM Customer Record on the Postage Details tab the user now has an option to be able to default the Deposit Account use on payment records if the user has more than one deposit account.

Client Portal: Hide Proof Requests for Deleted Estimates
Moving forward proofs that were associated an estimate that has been deleted will not show in the client portal.
Employee Import Tool
Users now have the ability to update and import employees using the Employee Import Tool located in Tools>Data Import tab.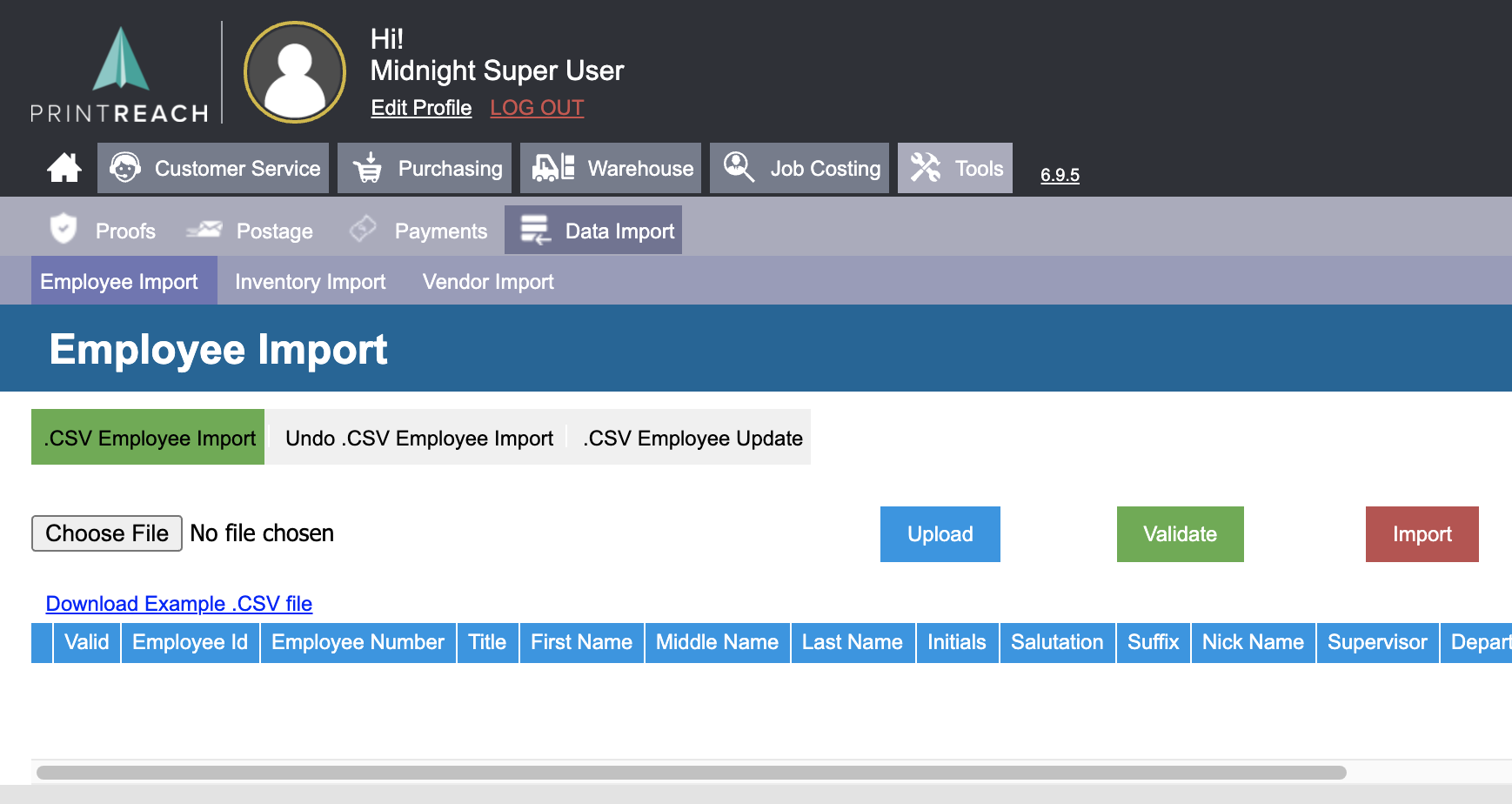 Vendor Import Tool
Users now have the ability to update and import vendors using the Vendor Import Tool located in Tools>Data Import tab.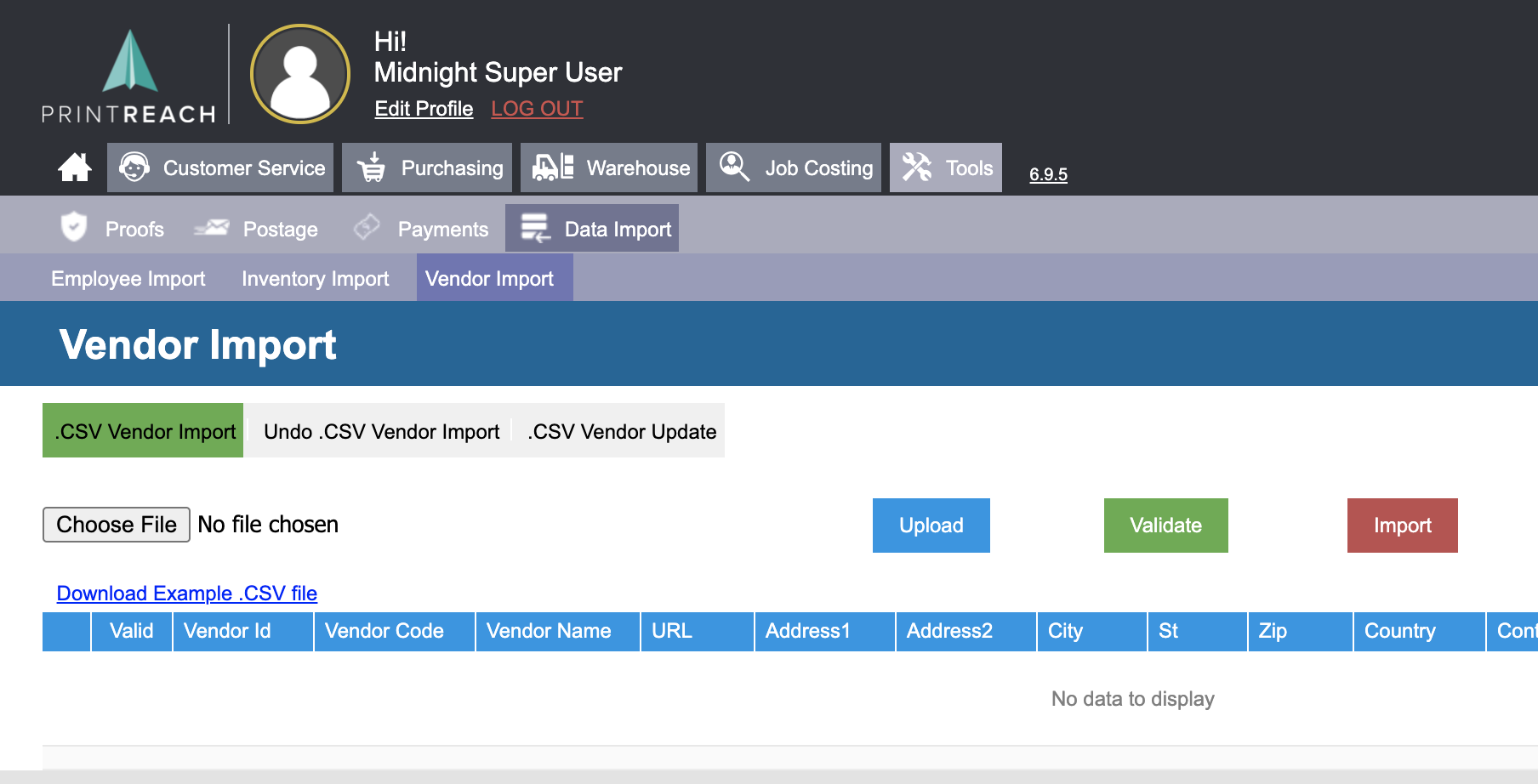 Fulfillment/Midnight Customer Sync
Midnight MIS and Midnight Fulfillment have released the first portion of our integration project starting with Customer syncing. This allows a user to maintain the customer records for Midnight MIS and Midnight Fulfillment from either system without having to rekey information. Over the coming months we will be adding inventory item sync, warehouse location sync, transaction sync and item count sync. You can see a detailed article on setting up and managing this integration using the link below.
Midnight / Fulfillment Customer Integration
Articles Added/Updated During This Release Period