Midnight v6.9.6 (11/24/2020) Release Notes Follow
Purchase Order Header Updates
In preparation for a larger group of updates we have made some small but notable enhancements to the header of the Purchase Orders screen.
The first change is changing the Purchase Order type field from radio buttons to a dropdown menu. This setting (Purchase Order/Purchase Order Request) is still controlled through Global Settings.
The second change is the addition of the Estimate number to the Purchase Order header allowing the user the ability to associate an Estimate to a Purchase Order.
The third change is the addition of the Purchase Order Status explained in the section below.
Purchase Order Status
The Purchase Order Status is administered from Global Settings -->PO and will be used as part of coming future enhancements.


Purchase Order Line Item Updates
We have also updated the layout of the Purchase Order grid to accommodate some extra information as well as make it more usable for every day use. This includes making the description field larger, adding the Estimate column and moving columns like Markup and Quantity received to the line item details screen.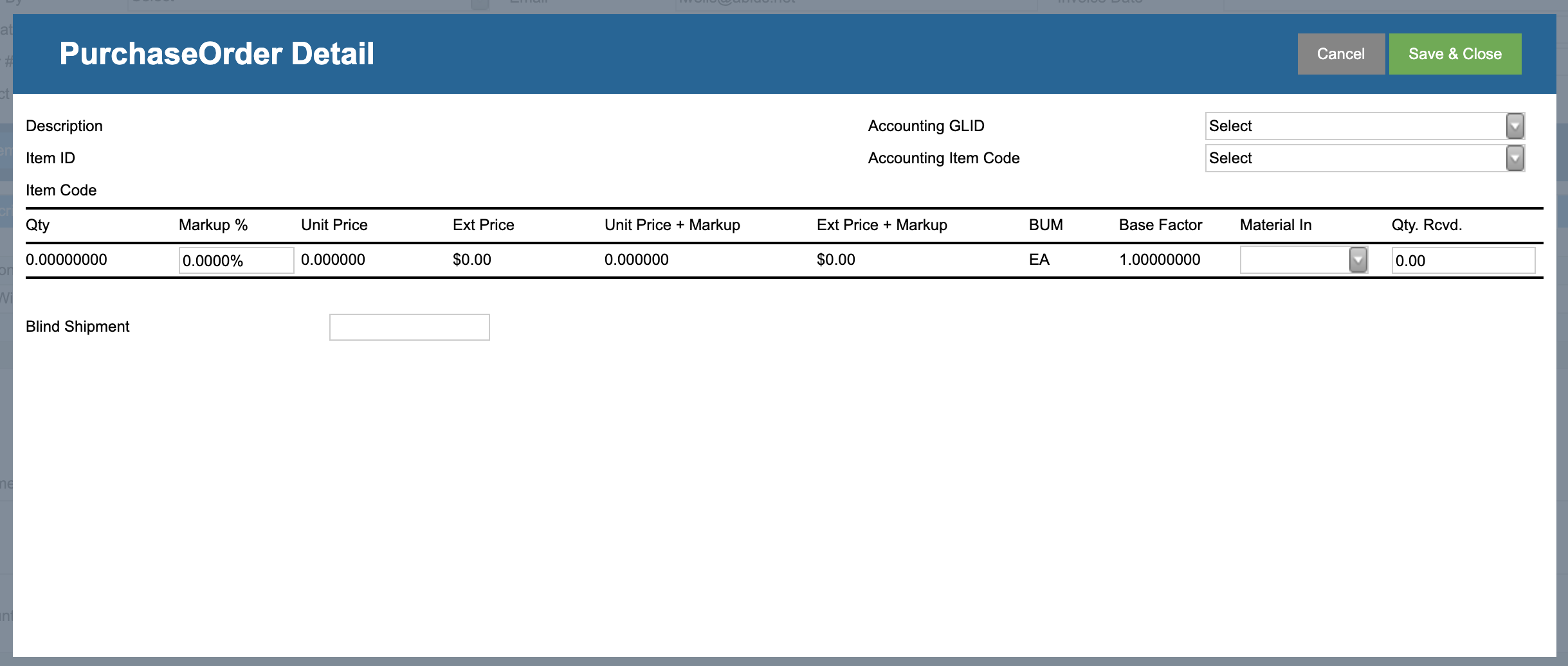 Update Postage Markup By Mail Class
On the Postage tab in Estimates, a user can now bulk update the markup pf postage line items by Mail Class using this new tool.


Advanced Additional Service Units
Print Additional Services now have 3 new Unit Types that can be used to calculate pricing in the print calculator. A user can now set an Additional Service to use Net Impressions, Run Sheets or Press Time as the Quantity value.

Midnight/Fulfillment Integration - Product/Item
The integration between Midnight Management and Midnight Fulfillment has been further enhanced to include the ability to link Midnight Items with Products within Midnight Fulfillment. Once linked, the Item Name, Description, Customer Part #, UPC Code & Unit Value will be synchronized when changed in either system.
In the Details tab of the Item page, two new fields have been added. The "Fulfillment Item" check box allow the Item to be linked to a Fulfillment Product. Once the Item is linked, the corresponding Fulfillment Product ID will be displayed in a read only field.

Articles Added/Updated During This Release Period
Improve Dynamic Job Board (DJB) Load time with Pagination
Improve DJB Loading time by Removing Columns From the DJB Task View
Change the Default Attachment Name for an Emailed Report
Open the DJB as a Window in Chrome
Add Work Order Reports to the Dynamic Job Board (DJB)