Verifying who is Jobbed into Shop Floor Follow
Easily see who is currently jobbed in
Whether it is near the start of the shift and you want to verify everyone on the floor is currently jobbed in or you are breaking for the weekend and you want to confirm each of your team members jobbed out before leaving, Midnight has the tools to make it easy to see who is currently jobbed in to a job and if all employees have successfully jobbed out at the end of the day.
The Employees Active Jobs widget shows everyone that is currently jobbed in, what they are jobbed in on and how long they have been jobbed in. If no one is on the floor working, the widget should be empty.
If you have the widget assigned to your log in, you will see it on your dashboard (the Home screen that displays when you log in to Midnight and that you can access by clicking the Home icon in the top left-hand corner of the program.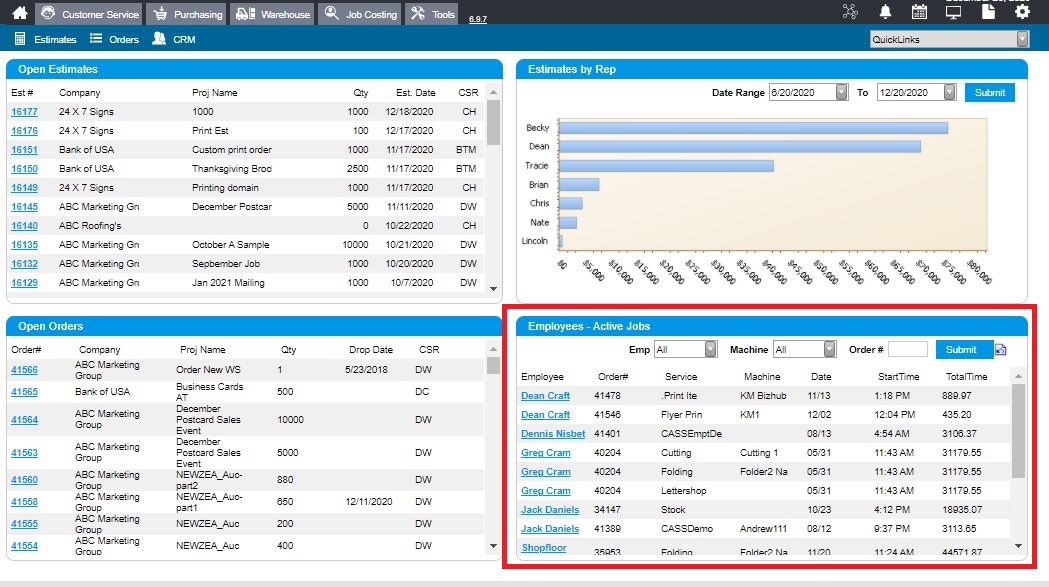 For any employees who are jobbed In but should not be, have them job out or have a manager use that employee's kiosk code to job them out within Shop Floor.
Also, if an account manager needs to know if their job is being worked on at a given moment, they can look to the same widget.
If you need to see who is jobbed in, whether you manage a group of people or need to know the status of jobs, have your Admin add the widget to your dashboard.
If you are an Admin and want to add a widget to an employee's login, visit Adding a Widget to a User's Dashboard for guidance!